Buying a food truck for your business is a great way to start taking your culinary dreams on the road, but it's essential to know how to find the perfect truck that suits your needs and budget.
In this article, we'll explore some tips on where to buy a good food truck, as well as what you should consider before making a purchase.
The Food Truck Industry in 2023
The food truck industry is booming and poised to reach new heights in the next few years. The food truck industry was worth an estimated $1.4 billion in 2022 and is expected to grow at a rate of 3-5% in 2023.
With innovative technology, increased consumer demand, and growing investment opportunities, the food truck industry has become an exciting venture for entrepreneurs and investors alike.
Why You Should Consider a Food Truck Business
Starting a mobile food business is an attractive and relatively inexpensive way to become your own boss, make money on your own terms, and bring joy to others.
Here are five reasons why you should consider starting a food truck business in 2023:
Low Initial Investment Costs: Food trucks require minimal startup costs compared to other businesses. You can get started for less than $50,000.
Flexible Hours: Food trucks offer flexibility when it comes to setting work hours that fit your lifestyle and personal commitments. You can operate your truck during peak times or just when you want to.
Less Competition: The food truck industry has far fewer competitors than the restaurant industry, giving you the opportunity to stand out from the crowd and build a loyal following quickly.
Unique Experiences For Your Customers: A food truck offers an exciting and unique experience for customers that cannot be found at traditional restaurants or dining establishments.
High-Profit Potential: With proper planning, marketing, and management skills, you have the potential to make high profits with a food truck business since low overhead costs mean higher margins of profits for every sale made.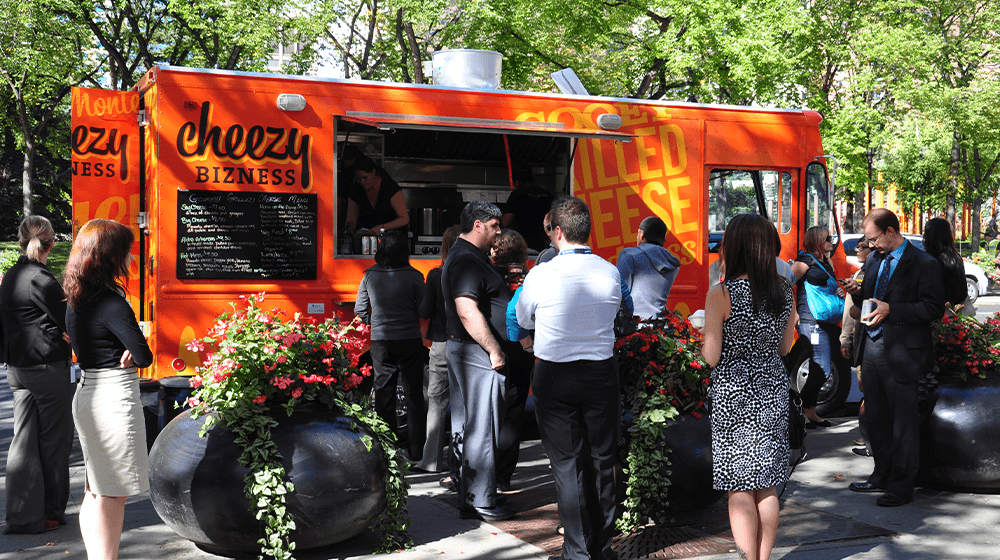 Where to Buy a Food Truck
Finding the right food truck can seem like an overwhelming task. Take a look at these great options for finding the perfect one for your business.
eBay
If you're looking for a new truck to start your food truck business, consider browsing concession trailers on eBay. You can easily find food trucks for sale on the platform and purchase a new truck that fits your needs and budget.
Craigslist
If you're in the market for a food truck, Craigslist is a great place to start. You can find a variety of options, from food trailers to trucks with a food cart, all equipped with the necessary features for selling prepared food.
When browsing on Craigslist, be sure to look for trucks with a propane tank, which will allow you to cook and serve food without relying on electrical outlets.
Specialty Websites
Buying a food truck on specialty websites can offer you a great selection of vehicles to choose from. With the right type of cooking equipment and a well-designed serving window, you can easily set up shop with any type of cuisine.
From mobile kitchens to BBQ trucks, you'll find plenty of options that fit your culinary needs and budget.
Etsy
Whether you are looking for a custom food trailer with a full kitchen or something more basic, Etsy has plenty of options. With competitive prices and fast shipping times, you can have your new truck in no time.
Plus, customization options are available if you're looking to make your food truck stand out from the rest.
UsedFoodTrucks.com
UsedFoodTrucks.com is the go-to source for pre-owned food trucks. With an extensive selection, you'll find what you need quickly and easily.
View photos, pricing, and specs before making a decision, and get delivery options for added convenience.
Roaming Hunger
Roaming Hunger provides quick access to buying, building, leasing, and selling food trucks. Plus, you can find paid catering opportunities or get selected for events with the booking marketplace.
Fill your calendar with private gigs, community events, exclusive partnerships, and more – all hassle-free!
Used Vending
Used Vending is a trusted online marketplace for food trucks in the USA and Canada. They offer a wide range of food trucks for sale, including ice cream trucks and full tractor-trailer kitchens, with new trucks added daily.
Customers can set a "Me First Alert" to receive early notification of new trucks in their area. With a reputation for great deals, Used Vending is a top choice for those looking to buy a food truck.
Food Truck Empire
Food Truck Empire has a huge selection of food trucks, carts, and concession trailers from sellers across the USA and Canada. Each listing is verified for legitimacy. You can also find custom mobile builds in the directory of top-notch manufacturers.
Chef Units
Chef Units is a manufacturer of custom food trucks, trailers, and carts. They offer personalized designs and support throughout the build process.
They also offer used food trucks for sale and are a top choice for those looking to start or expand their food truck business.
How to Buy a Food Truck
Buying a food truck can be an exciting and rewarding experience, but it is important to know exactly what you need and how to go about the process.
Here are some things to consider when buying a food truck:
Research Your Options: Start by researching different types of food trucks, deciding on your budget, and looking at available options.
Inspect & Test Drive: Once you have narrowed down your choices, inspect the vehicles in person and take them for a test drive to make sure they meet your needs.
Consider Additional Costs: In addition to the purchase price of a food truck, you should also factor in additional costs such as food service equipment, permits, taxes, insurance, and maintenance into your budget.
Negotiate Price & Terms: When making an offer for your chosen vehicle, negotiate the best possible price and terms that are favorable for both you and the seller.
Get The Necessary Permits & Licenses: Before starting your business operations, make sure that you obtain all necessary permits and licenses from local authorities according to regulations in your area.
Should you buy, rent or lease a food truck?
Buying, renting, or leasing a food truck is an individual decision and should be based on the requirements of your business.
If you decide you need to save money upfront and you are able to find a reliable vehicle with low mileage, buying a used food truck might be the best option for you.
However, depending on your budget and food truck business plan, renting or leasing a food truck might better suit your needs as it could provide more flexibility in terms of payment options and access to newer vehicles.
Is it better to buy a new or used food truck?
Buying a new food truck could be a better option if you want the latest model with all the latest features, however, it generally costs more than buying a used one.
On the other hand, if you are on a tight budget and you can find a reliable vehicle with low mileage, then buying a used food truck might be the best option for you.
How much money do you need to buy a food truck?
The amount of money needed to buy a food truck depends on several factors such as the size and type of vehicle, its condition, and any necessary upgrades or repairs.
The average food truck can cost anywhere between $40,000 to $80,000 for a used one while a new food truck can cost between $75,000 and $150,000.
How much does it cost to operate a food truck business each month?
The cost of operating a food truck business each month can vary, depending on factors such as your location and type of food, as well as recurring expenses like rent, insurance, permits, labor, fuel costs, marketing and advertising, equipment maintenance, and repair costs, and food supplies.
An accountant or financial advisor familiar with the industry can provide an accurate monthly cost estimate.
What are the average salaries of food truck owners?
Food truck owners earn an average salary of between $24,000 and $153,000 per year nationally.
However, this figure can vary depending on factors such as the size of the business and the amount of labor put in by the owner.
Food truck owners who focus on high foot traffic areas and cater to special events may earn more than those who focus on residential locations.
How profitable is a food truck business?
The income of a food truck business can vary greatly, ranging from $23,000 to over $100,000 annually.
Factors such as location, marketing campaigns, and menu offerings can have an impact on the degree of success the business will enjoy.
With sound operational practices and well-thought-out strategies in place, it's possible for a food truck to reap tremendous rewards financially.
Are food trucks a good investment?
Deciding to invest in a food truck can be a rewarding experience. Smart food truck name ideas and participation in the occasional food truck festival can attract even more customers and improve profits.
A food truck franchise may also be an option, providing an established infrastructure, brand recognition, and customer loyalty increasing the chances of food truck success.
Image: Depositphotos
This article, "Where to Buy a Food Truck (and How to do it)" was first published on Small Business Trends