For both job candidates and recruiting professionals, the hiring process can be an exercise in extreme patience and coordination. This is especially true in the early stages of the hiring process, when an often large volume of candidates must be initially prescreened and assessed through a preliminary interview.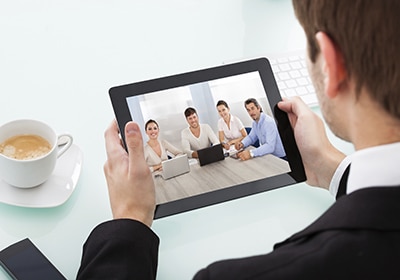 In a recent nationwide recruiter survey, 67% of respondents said it takes between 30 minutes and 2 hours to schedule a single interview. The same survey reported that 56% of companies have a dedicated person on their recruiting team just to schedule interviews.
If there were one aspect of the hiring landscape that could use a boost in efficiency, it would be this clear bottleneck step in the process.
Using Automation to Clear Through the Bottleneck
The most promising benefit of on-demand interviewing is the automation it delivers to the cumbersome aspects of the hiring process, particularly the candidate prescreen process.
Instead of coordinating a time that works best for both the candidate and the recruiter during the small window of business hours, an invite can simply be sent out to the candidate with instructions on how to complete the recorded interview at his or her optimal time—all without any direct interaction with a recruiting professional.
This means valuable recruiting activities are completed without consuming recruiter resources, freeing up recruiters' time for more important activities, such as courting the best talent once they are identified post-screening. With some job openings attracting upward of 250 résumés, automating this step in the process can translate into substantial timesavings for the recruiting operation.
The effect of this efficiency goes beyond optimizing where recruiters spend their time. It can also compress the overall hiring timeline, giving employers a material advantage in winning the competition for talent against firms competing in the same space.
In addition, the self-service aspect of on-demand interviewing can also increase candidate engagement. To put it simply, the more candidates who engage with a job opening, the higher the probability of capturing a higher-quality pool of candidates.
On-demand interviewing can foster better engagement rates for the simple fact that digital interviewing is convenient. But employers can increase engagement rates further by matching the right types of on-demand interviewing methods with the specific job type, which we'll get into next.
Beyond On-Demand Video Interviewing
In the world of on-demand interviewing solutions, video-based interviews receive much of the attention and interest, which is understandable because video interviews provide a closer experience to what we might think of as "the real thing" (i.e., an in-person interview). However, it is important to keep in mind that there are two other common flavors of on-demand interviewing beyond video: audio and text message.
While some positions may warrant a video-based interview, employers should remain sensitive to the comfort level of some candidates recording a video of themselves. This is to say that audio and text-based interviewing typically yield higher engagement rates because they are, fundamentally, less intimidating to complete.
By having all three flavors of on-demand interviewing available in your toolkit, recruiters will be able to maximize engagement by being strategic in how they apply the interviewing type. Call center employees, for example, would feel natural completing an audio-only interview. Entry-level positions that attract a younger talent pool from the smartphone generation may result in higher engagement rates with video.
The bottom line is that on-demand interviewing, when deployed strategically, can significantly improve candidate engagement rates, which helps employers maximize their recruiting efforts.
Clear Benefits to Jobseekers
The benefits discussed so far that improve the hiring process for recruiters also translate over to the candidate in impactful ways. The increased speed to the hiring process and the self-service nature of on-demand interviewing better respect candidates' time.
For example, it is common for candidates to make significant accommodations just to attend a job interview or even a phone screening, such as taking time off from their existing jobs. On-demand interviewing eliminates these hurdles and delivers a much more frictionless experience.
The compression of the hiring timeline is critical to jobseekers, as well. One of the most common complaints from candidates is that the hiring process takes too long. Scheduling an interview or a phone screen for a future date can add days to the hiring process.
This issue can be completely eliminated with on-demand interviewing, shifting some control over the hiring timeline to the candidates themselves—the faster candidates complete their interview, the sooner they can be assessed. At my firm, Harqen, we see that 72% of candidates complete their on-demand interviews within 24 hours, which ultimately helps improve time to hire by as much as 70%.
Ultimately, organizations are leveraging technology to become more efficient and improve traditionally manual processes. On-demand interviewing represents one way employers are transforming digitally to improve their talent acquisition efforts while also improving the candidate experience.
Tim Ihlefeld, the President and CEO of Harqen, has over 25 years of technology and professional experience specialized in talent acquisition. He is responsible for executing Harqen's overall business and growth strategy.

Prior to joining Harqen, Ihlefeld held several executive leadership roles within organizations desiring to execute market growth initiatives. By providing strategic and scalable business direction, he has presided over the successful business expansions for both publicly traded and nonpublicly traded firms.
The post The Benefits of On-Demand Interviewing for Both Recruiters and Jobseekers appeared first on HR Daily Advisor.