Fifty percent of workers are back in the office, and a recent study says it's likely to stay that way. With hybrid work as the new normal, businesses must develop innovative ways to engage their employees, which goes beyond laptops and hand sanitizer. Here are three ways to improve employee health, connection, cleanliness, and culture: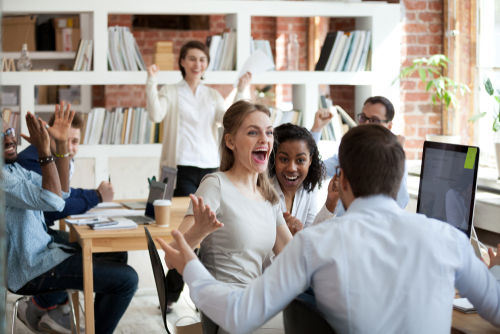 Innovate Employee Communication/Connectivity
According to data from a survey commissioned by Canon and conducted by OnePoll*, employees in a variety of industries typically face different communication challenges depending on their personality types. For many introverts, the top hurdle is a lack of feedback or communication, while extroverts can feel overwhelmed by too many communication channels. The survey also found that employees in both groups agree that communication is more challenging when working remotely, with nearly two-thirds of employees saying it can be hard to speak up in virtual scenarios.
To reduce the disparity, companies can tap into new solutions tailored to help employees feel more connected. While employees may have different communication styles and preferences, we must continue evaluating and adopting innovative ways to promote effective collaboration.
Workplace Cleanliness
Given everything we've learned throughout the pandemic, workplace cleanliness remains top of mind for many employees who want to feel protected in the office. With the help of new technologies, companies can boost team morale and confidence with workplace cleanliness.
While it's essential to keep office spaces clean, solutions like low-touch devices can also free up personnel to perform other activities.
Prioritize Workplace Culture and Create an Inclusive Environment
Regardless of where our employees reside, they're an integral part of our team. In a hybrid environment, ensuring employees feel included and valued is more important than ever. Both introverts and extroverts love a sense of belonging, so providing reassurance is key to a healthy workplace. 
One way to do this is by building a company culture that helps unite employees. At Canon, we have a clear corporate philosophy: Kyosei. Kyosei means "all people, regardless of race, religion, or culture, harmoniously living and working together into the future." A belief threaded throughout our entire organization, Kyosei prioritizes social and environmental responsibility, bringing together all our employees to commit to the common good. Whatever your company's vision is, all employees must be included in it. 
In addition, you can take steps daily to build good working relationships. For example, employees should be encouraged to share their wins and celebrate their colleagues' achievements, both personal and professional. Employee engagement takes time and should always be prioritized to optimize culture, health, and connection, and it can lead to more successful business operations.
As Senior Director of Employee Relations and Development in Canon U.S.A.'s corporate HR division, Jami Schultz is responsible for employee relations for all of Canon U.S.A., as well as the company's learning and development and talent management teams within HR.
Schultz leads the HR business partners at Canon U.S.A.'s headquarters in Melville, New York, as well as at regional offices across the country, to serve as the main points of contact for employees who have questions or concerns related to performance management, promotions, compensation, and more.
In addition, Schultz oversees the learning and development team that's responsible for providing a wide range of educational and training opportunities for employees. This includes the creation of content, the facilitation of training by instructors, and the technical aspects of the learning platform.
With the ability to maximize talent so important to the company's success and future, Schultz and her talent management team focus on organizational development, succession planning, and creating and analyzing results of the employee engagement surveys. This comprehensive survey is designed not only to measure engagement but also to provide valuable data leading to suggestions for possible improvements within the organization.
Before her promotion to senior director in April 2020, Schultz served as director of employee eelations in Canon U.S.A.'s corporate HR division since January 2016.
 Schultz joined Canon U.S.A. in February 2011 as counsel in the company's legal division. She transferred to corporate HR and was promoted to senior manager of employee relations in September 2013.
* Data is from a survey commissioned by Canon U.S.A., Inc., and conducted by OnePoll from September 21 to October 13, 2022, with a panel of 2,002 employed Americans, including 1,018 hybrid workers.
The post 3 Tips for Perfecting Employee Engagement in the Hybrid Workplace appeared first on HR Daily Advisor.