Over the last few months, employers across the country have taken a massive hit to their bottom lines in the wake of the coronavirus pandemic. As a result, the federal government stepped up and created new laws for struggling businesses, which will help these organizations make ends meet and keep workers safe.
The most notable news laws include:
The Small Business Administration's Paycheck Protection Program (PPP), which provides forgivable loans to employers that keep employees on the payroll or bring them back quickly as businesses adjust to the COVID-19 crisis;
The Families First Coronavirus Response Act (FFCRA), which provides both paid sick leave and paid family and medical leave for workers affected by the COVID-19 pandemic; and
The Coronavirus Aid, Relief, and Economic Security Act (CARES Act), which offers provisions that impact employers, including the rollout of robust unemployment compensation benefits, payroll tax credits and deferral, and various forms of economic assistance to incentivize employers to bring back furloughed or laid-off employees and to refrain from further layoffs and terminations.
To gauge the current sentiment of employers as they work to guide their workplace through the COVID-19 pandemic, law firm Dykema surveyed approximately 125 respondents. The results of the survey revealed several important findings; highlighted in the infographic below. For more information, click here.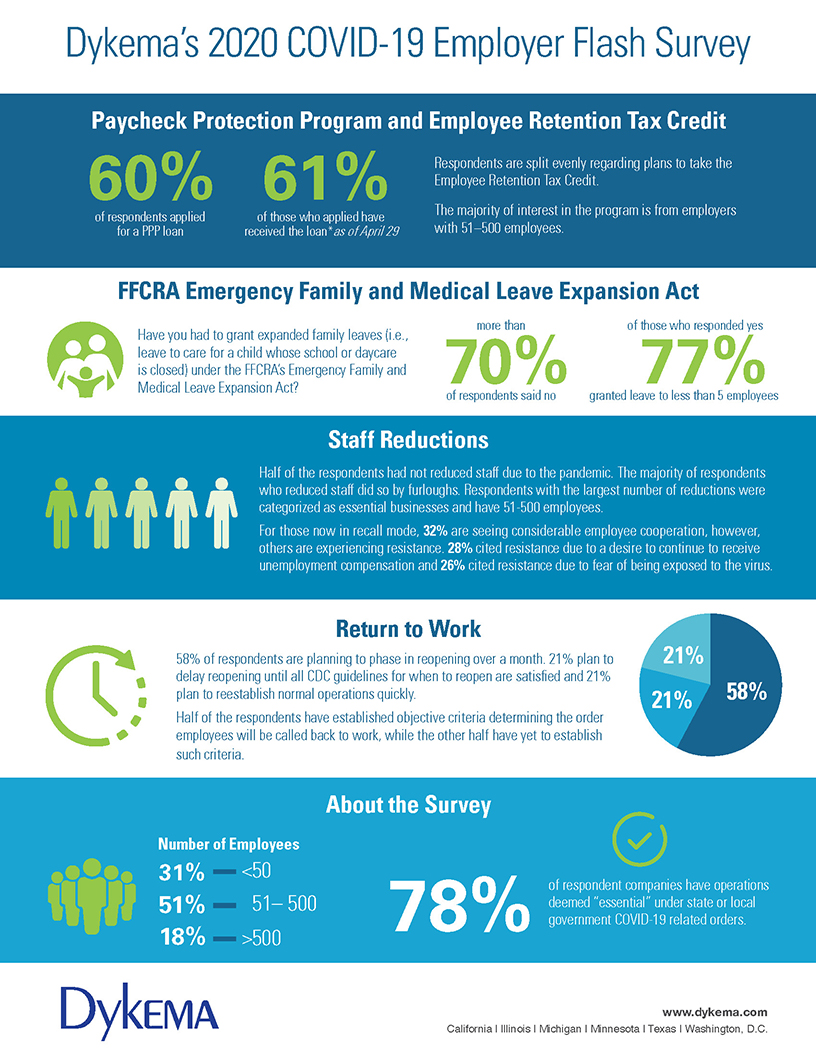 The post 61% of Employers Have Applied for Federal COVID-19 Relief, Finds Survey appeared first on HR Daily Advisor.