Evaluating sexual harassment claims almost always requires weighing conflicting evidence and making credibility determinations. In such situations, whoever is evaluating the claim—whether a court or an HR manager—must thoroughly examine all relevant evidence to determine whether the allegedly harassing conduct occurred and whether the conduct constitutes actual harassment because of sex or something else. Those determinations are a lot easier when, as in this case, video footage of the alleged conduct is available.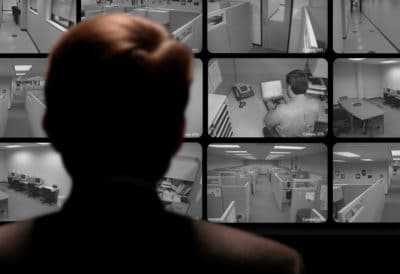 Employees Allege Harassment During Security Screenings
Tamika Schmidt, a judicial secretary, and Danielle Penny, a court program supervisor, worked in the Hall of Justice for Ventura Superior Court, in Ventura, California. Ventura County retained a private company for security at the hall. All court employees had to pass through a security screening when they entered the building. Employees went through the same screening as the public, but in a different line. All security screenings were in public and on video.
During screenings, people put belongings on a conveyor belt feeding into an X-ray machine. Guards looked for prohibited items like guns, knives, scissors, and brass knuckles. After putting items on the belt, entrants walked through a metal detector archway that beeped when it detected metal. Different levels of lights on the edge of the archway would light up to show where metal might be. For example, a shoe-level light showed if there was metal at the shoe level, and so forth.
If the archway beeped, a guard tried to determine the reason, often with a handheld wand that beeped near metal. Depending on the light signal on the archway, guards customarily waved the wand outside of people's legs, across their waistbands and a foot or two below that, and over the area of back pockets. Guards were trained not to put the wand too close to people, but to work properly, it had to be no more than a foot away.
Schmidt and Penny filed a lawsuit alleging a security guard, David Jacques, sexually harassed them during the security check process. Penny alleged Jacques inappropriately scanned her many times by holding the wand over her breasts, pelvis, and buttocks for at least 3 seconds at a time when the archway didn't beep. She also testified she often saw Jacques do that to other women. She reported to the Ventura Superior Court that for 3 days in a row in March 2014, Jacques blocked her path when the archway didn't beep, scanned her buttocks, and once scanned her breasts and pelvis.
Schmidt alleged Jacques held the wand stationary for several seconds over her breasts and buttocks about 100 times between 2011 and 2014. She also alleged that on March 28, 2014, Jacques dumped and searched her bag, took out her sewing kit, and refused to let her enter the building with sewing scissors. Schmidt further alleged that on August 14, 2014, Jacques leaned over the X-ray machine, got close to her face, and yelled, "Hi, Tamika. Good morning, Tamika. Have an awesome day." She claimed he was taunting her.
All parties agreed to a trial before a superior court judge without a jury. The trial lasted 19 days and involved testimony from 32 witnesses, including Schmidt, Penny, Jacques, multiple security personnel, and employees from the Ventura County Superior Court. While there was much conflicting evidence, the trial court ultimately ruled not only that Schmidt and Penny didn't prove sexual harassment but that the evidence instead clearly showed no harassment occurred. The trial court issued its ruling in an 82-page decision that discussed all the evidence, including the testimony from each of the 32 witnesses. Schmidt and Penny appealed.
Parties Face 'Enormous Burden' on Appeal
The court of appeal began by noting that when parties challenge a trial court's factual findings, they have an "enormous burden." That's because the appellate court must accept as true all evidence supporting the trial court's order, it completely disregards contrary evidence, and it draws all reasonable inferences to affirm the trial court's decision. The court of appeal doesn't reweigh the evidence.
The evidence at trial fell generally into three categories:
So-called "me, too" evidence, which consisted of other employees who testified they experienced or witnessed Jacques engaging in similar conduct as that alleged by Schmidt and Penny;
Evidence from employees who had worked with Jacques who claimed they never saw him engage in inappropriate conduct; and
Video evidence.
In analyzing the "me, too" evidence, the court of appeal believed the trial court had correctly disregarded statements of certain witnesses who had expressed a personal dislike for Jacques. Testimony by one female employee who claimed he harassed her by touching her with the wand near her buttocks didn't support Schmidt's and Penny's claims because she admitted she couldn't say he did it intentionally. The court of appeal accepted as true, as it must, the evidence of those who testified they didn't see Jacques engage in inappropriate conduct.
Video Footage Refutes Harassment Claims
But what truly torpedoed Schmidt's and Penny's claims was the video evidence. For example, Penny alleged Jacques inappropriately scanned her with the wand three days in a row in March 2014. A Ventura County HR employee, Bernadette Terry, searched for but couldn't find footage matching Penny's account.
On those dates, Jacques was either not working, was assigned to the X-ray machine rather than the wand, or didn't interact with Penny at all. Terry looked at video "a couple of weeks before and a couple of weeks after" the dates Penny provided, but she still couldn't find video matching her allegation.
The court of appeal also watched the video of the March 28, 2014, incident in which Schmidt claimed Jacques dumped and searched her bag, took out her sewing kit, and refused to let her enter the building with sewing scissors. The video instead showed Schmidt voluntarily handing Jacques her sewing kit, not him dumping her bag or taking the kit from her bag.
As for the August 14, 2014, incident in which Schmidt alleged Jacques leaned over, got close to her face, and said "Hi Tamika" in a taunting manner, the video didn't show him leaning forward or getting close to her face.
In conclusion, the court of appeal believed the trial court properly assessed the credibility of the witnesses while acknowledging its role wasn't to weigh the evidence. The appellate court also concluded the trial court had analyzed the evidence and determined whether "the totality of the circumstances" established sexual harassment, as the law requires. In short, the court of appeal found no reason to overturn the trial court's well-reasoned decision. Schmidt, et al. v. Superior Court, County of Ventura (California Court of Appeal, Second District, 1/22/20).
Bottom Line
This case perfectly illustrates that sexual harassment claims usually involve highly contested evidence. That's a good lesson for HR managers who are called on to investigate such claims. Too often, an HR manager will decide an investigation into a harassment claim is inconclusive when it involves he-said, she-said allegations.
In such situations, managers must dig deeper. Examine the motives of the parties—are there personal or work-related reasons that may affect the credibility of those involved? Interview coworkers of the victim and the accused to determine whether others have witnessed similar behavior. And, of course, don't forget about possible video footage!
Matthew A. Goodin can be reached at Seyfarth Shaw in San Francisco, mgoodin@seyfarth.com.
The post Is It Sexual Harassment? Let's Go to the Video appeared first on HR Daily Advisor.