Despite the COVID-19 global pandemic, businesses remain vulnerable to physical and digital accessibility claims and to being targeted by serial plaintiffs alleging violations of Title III of the Americans with Disabilities Act (ADA).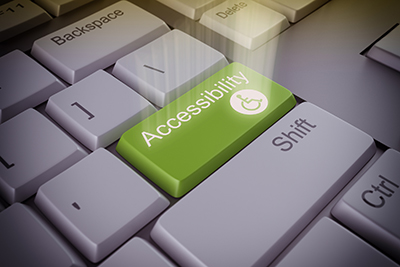 ADA Title III litigation has been on the rise for several years, and the trend is expected to continue during the pandemic as the public becomes increasingly dependent upon websites and mobile applications. Accordingly, businesses should consider taking actions now to mitigate their risk of these "drive by" and "surf by" claims.
Overview of Physical and Digital Accessibility Claims
ADA Title III claims most commonly challenge the physical accessibility of places open to the public or the digital accessibility of websites and mobile applications. Plaintiffs asserting these claims typically allege that owners or operators of public accommodations discriminated against them because their physical or virtual "places" are not accessible.
Physical access claims often are referred to as "brick-and-mortar" claims, as they typically involve architectural barriers. For example, plaintiffs with physical disabilities frequently allege that retail stores and restaurants are in violation of the ADA because they have steps at their entrances (and no ramp or lift) or their restrooms are too small and lack required accessible features, such as properly sized and located grab bars or insulated pipes beneath the sink.
With respect to digital accessibility claims, blind plaintiffs generally allege that businesses' websites and mobile applications violate the ADA because they are not compatible with screen readers. As a result, such individuals claim they are unable to access online content or complete transactions, such as purchasing goods or making reservations at restaurants or hotels. Similarly, deaf plaintiffs often allege that websites are in violation of the ADA if they contain videos that lack captioning.
As a remedy for alleged ADA Title III violations, plaintiffs seek injunctive relief, requiring businesses to fix the issues, and their attorneys' fees, costs, and expenses, which can be significant if an early settlement is not achieved. In certain jurisdictions, such as New York or California, plaintiffs also may file accessibility claims under state or local law. Unlike Title III of the ADA, those statutes may allow prevailing plaintiffs to recover monetary damages.
Mitigating the Risk of Physical Accessibility Claims
Currently, the physical locations of many retailers, restaurants, and other businesses are shuttered due to COVID-19. As state and local governments begin to ease restrictions, more and more businesses are in the process of reopening or planning to reopen. To mitigate the risk of "drive by" claims, businesses are encouraged to survey their physical locations now and remediate as many barriers to access as possible. Despite the common misconception, no facility is "grandfathered" under the ADA!
However, identifying ADA Title III violations and fixing them is more complicated than they may seem. One of the reasons is that businesses have different obligations under the ADA based on the age and construction/alteration history of their facilities.
Another reason is that structural issues or other existing conditions may make it "technically infeasible" to meet certain ADA standards. The scoping and technical requirements contained in the 1991 and 2010 ADA Standards for Accessible Design are complex and challenging to navigate.
For these reasons, the assistance of experienced counsel and a credentialed ADA consultant with an architectural or engineering background is strongly recommended. Businesses should retain any such expert through counsel and document the engagement properly so the communications and work product may not be discoverable in any future lawsuit.
Mitigating the Risk of Digital Accessibility Claims
While countless physical locations have closed during the pandemic, many online businesses have continued to operate—and perhaps with more Web traffic than ever. Businesses that have websites or mobile applications should review the accessibility of their digital platforms and take proactive measures to ensure they are accessible—and remain accessible.
The generally recognized measure of ADA compliance is conformance with the privately developed Web Content Accessibility Guidelines (WCAG) 2.0, Level AA standard (although conformance with version 2.1 is advisable). Businesses are encouraged to retain experts through counsel to review the accessibility of their websites and mobile applications because these guidelines are highly technical and complex, and both manual testing and automated testing are necessary for a comprehensive evaluation.
In reality, websites and mobile applications are dynamic platforms that are constantly changing. An accessible website or mobile application may be thrown out of compliance rather easily, such as by failing to provide alt text for a new image or uploading an inaccessible PDF document.
Accordingly, businesses should conduct regular audits of their websites and mobile applications, limit who has the ability to make changes to those platforms, and ensure that all persons who update content have adequate training. Businesses also may consider uploading an accessibility statement to inform the public of their efforts and provide a means for users to submit feedback.
To complicate matters, businesses may be held responsible for any third-party services operating within their websites or mobile applications that are inaccessible. Accordingly, businesses should evaluate their use of these services and selected vendors; review their existing vendor agreements; and, going forward, negotiate vendor agreements that contain appropriate representations and warranties and provide for indemnification in the event of claims.
Obtaining Insurance Coverage to Limit Exposure
Notwithstanding good-faith efforts to comply with all of the above suggestions to mitigate the risk of ADA Title III claims, businesses still may be sued. To help alleviate the financial losses associated with such claims, businesses should consider purchasing an insurance policy that provides coverage for these types of third-party discrimination claims.
Jason B. Jendrewski is a Partner at Fox Rothschild LLP, a 950-lawyer national law firm with 27 offices around the country. For further information about this article or ADA Title III matters, you may contact Jendrewski at jjendrewski@foxrothschild.com or 212-878-7952, or you can contact any member of the firm's national Labor & Employment Department.
The post Strategies for Businesses to Avoid ADA Accessibility Claims in the COVID-19 Era appeared first on HR Daily Advisor.