With tech layoffs dominating the news headlines in recent months, it may feel like the availability of talent has increased. However, it's still a tight labor market in most countries, and it continues to be difficult to make great hires. For many organizations, it's requiring some outside the box thinking.
In this episode of The Shortlist, we examine the benefits of hiring globally and how this can be a game changer in terms of sourcing talent. The added value that international candidates can bring to an organization is significant in terms of skills, experience, and international exposure – as well as increased diversity and greater innovation. But how do you go about hiring international talent? Where do you start? Thankfully, our guest, Karin Björkman, had the answers!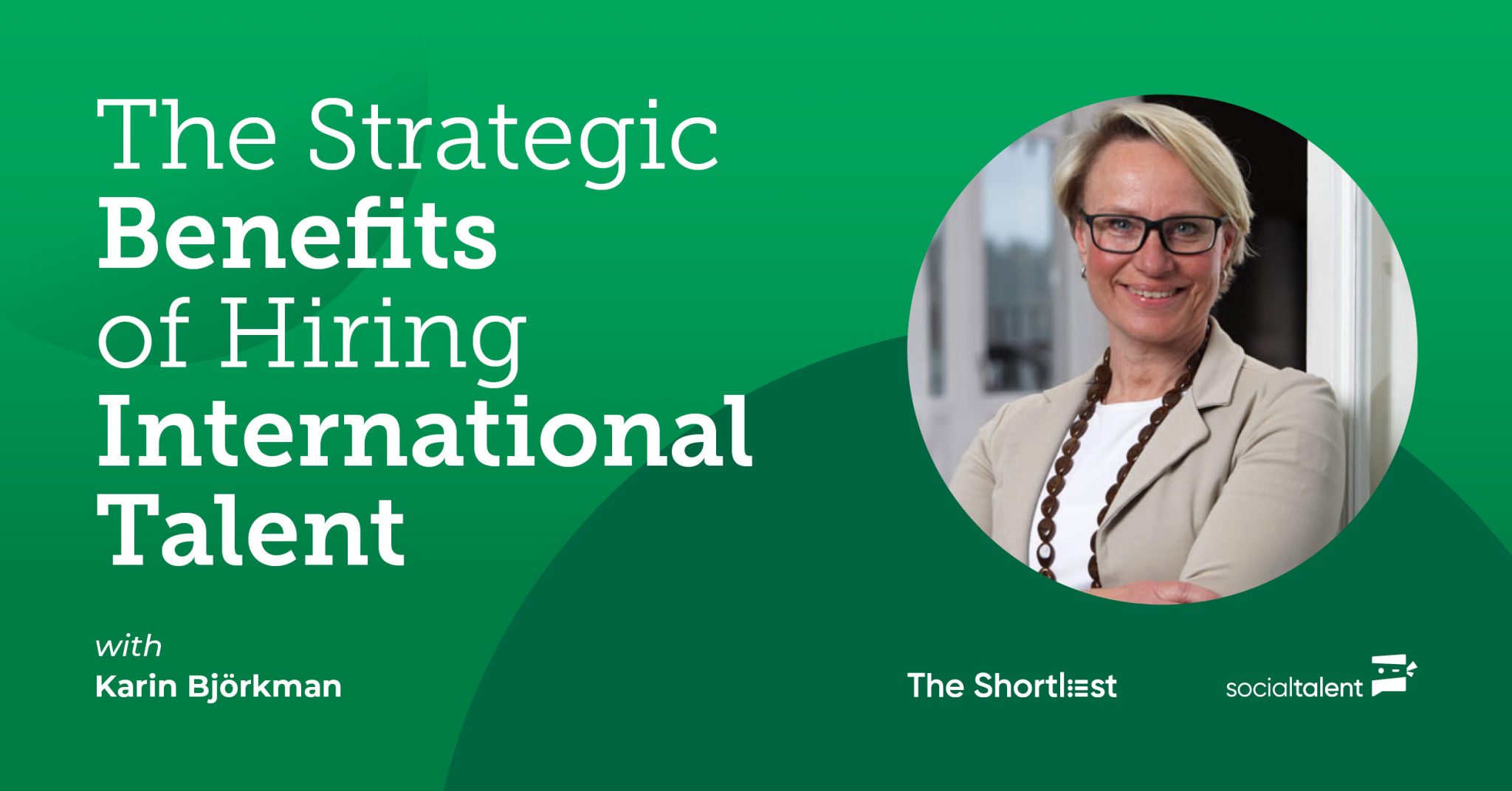 Karin is a consultative partner and talent advisor, with more than 20 years of experience in international recruitment in The Netherlands and Sweden. She spent 17 years with Undutchables Recruitment Agency as a recruitment and executive consultant before setting up the Swedish arm of Undutchables. Last summer, Karin set up her own agency, Beyondo Recruitment, connecting candidates to international job opportunities.
In this episode:
How hybrid and remote work is impacting international talent.
The impact of global recruitment on diversity, equity, and inclusion.
Challenges associated with moving talent across countries.
The benefits of international hiring.
Key takeaways:
1. How hiring international talent mirrors our multicultural society.
It's one of the most prominent benefits of leaning into international hiring, but it gives organizations an incredible opportunity to build more diverse and inclusive teams. Aside from creating a larger pool of talent, Karin also pointed out that it mirrors our multicultural society and this can help generate a huge amount of trust with clients and customers as well. You gain unique perspectives and understand different backgrounds that would otherwise be lost in homogeneous groups. It sparks creativity and innovation. As Karin puts it: "If you are cooking a soup and you just add salt and pepper, then you have a flat soup. But if you add some basil and other spices to it, you create a better soup. So why don't you do that with your staff in that sense?"
2. The practical things to keep in mind when recruiting globally.
Karin advocates for small steps when organizations are thinking about branching out to recruit more international talent. And this begins with education. Everyone needs to be on the same page – hiring global talent requires a different set of skills than traditional recruiting and it's important that anyone involved in the process is afforded the right training. Karin gave us the example of how degrees or qualifications differ from one country to the next, and your recruiters need to be able to adapt their knowledge to this. Otherwise, they could be passing up the very talent they're looking for. There are also a wealth of legal responsibilities that comes with hiring international employees, even if they're not physically moving country. Organizations must ensure they partner with experts in this field so everything is done correctly and efficiently.
3. What are the success metrics or indicators for sourcing candidates internationally?
Becoming an international employee isn't for everyone. But there are certain important factors that Karin recommends recruiters keep front-of-mind when sourcing for these positions. "We always have to look at their story," she says. Have they lived or worked abroad before? Do they speak multiple languages? Have they studied abroad? Is there some connection to the country you're recruiting to? It's about creating a link and it allows you to dig even deeper when it comes to the hiring process. People who take the chance to work abroad, or work for an international company, are brave and curious. They're looking for change and opportunity.
Our guest's final piece of advice:
"Be you and do!"
Karin's final piece of advice was for anyone thinking about taking an opportunity to work for an organization in a different country.
Highlights:
[3.03] Introduction
[4.10] Hiring international talent pre-2020
[6.25] How the popularity of hybrid work can impact international hiring
[8.31] Global recruitment across the sectors
[13.45] Diversity impact
[16.39] Practical steps for hiring internationally
[19.22] Qualification standardization
[22.28] Balancing the difficulties and recruitment process
[25.43] Understanding local markets
[32.00] Benefits of international recruiting
[33.50] How to source candidates who will be successful
Transcript:
Johnny Campbell:
You're very welcomed to episode 133 of The Shortlist. My name's Johnny Campbell, CEO and Co-Founder of SocialTalent. I'm your host for today's podcast and live broadcast. And I'm broadcasting today from the home of Guinness here in Ireland, the Guinness Storehouse. So for those of you watching live, you can see behind me a background of this number one tourist attraction in Ireland, which is visitor area. Ready to show you how to make Guinness. And I'm broadcasting on the day of International Women's Day. And I'm here today because I'm at the Talent Center, a conference for senior HR folks here in Ireland, the largest of its kind, where we're discussing the new world of flexibility, international work, some of the challenges that organizations are going through around the tug of war between employers and employees. And this is against the backdrop of tech layoffs, dominating the news headlines.
We know the availability of talent may have increased, or at least that's certainly the perception. However, it's still a really tight labor market in most countries and it continues to be super difficult to hire a great talent. For many organizations, this requires thinking a little bit outside the box. And in this episode in The Shortlist, we're going to examine the benefits of hiring globally and how this can be a game changer for many organizations. So the added value that international talent can bring to an organization is significant of course, in terms of skills, experience and international exposure, but also as well as increased diversity and greater innovation. But how do you go at hiring international talent? Where do you start? What are some of the pitfalls and benefits?
Joining us today on The Shortlist, excuse the noise coming from a live busy environment here today. But we're joined by Karin Björkman, she's the founder of Beyondo. And Karin is a consultative partner and talent advisor with more than two decades experience in international recruiting in the Netherlands and Sweden. She spent 17 years in the Undutchables Recruitment Agency as a recruitment and executive consultant before setting up the Swedish arm of Undutchables. And last summer, Karin set up her own agency, Beyondo, connecting and listing international job opportunities. Karin, you're so very welcomed to the show. It's wonderful to have you here. Give us where you're joining us from. Tell us about the snow, where you're today and why this topic is particularly of interest to you.
Karin Björkman:
Yeah, I'm joining you from Stockholm and thank you for having me on your show. We had code orange last night, so we had half a meter of snow. So we had to dig up the car to bring our son to school this morning. So normally in March, it's very nice spring weather here. But no, we got snow again. Well, first of all, I'm a huge fan of SocialTalent and I've been following your education and I have black belts, so very proud of that. I'm very passionate about international recruitment as I have been living abroad myself and have experienced how it is to move to new countries, learning new languages, looking for new jobs in new countries. And I made it my profession to help others in doing that. So I've had the privilege to work with very big organizations to help them with the recruitment and especially then of recruitment of international talents.
Johnny Campbell:
So Karin, as we broadcast in March 2023, it seems that everybody is embracing the opportunities with hiring international talent and maybe they think about hybrid work as well, but this isn't something new to you. You've been doing this for a long time. So maybe talk to me about international recruiting pre 2020. Tell me a little bit about that environment. Maybe share your story of being an international employee of different organizations in different countries and what your experience was like as well.
Karin Björkman:
Yeah, so I've lived in Switzerland where I also did my education and there I met my Dutch husband, which brought me to the Netherlands and were looking for a job in the Netherlands. I didn't speak any Dutch at that moment. So I was looking for a job where I could maybe use Swedish. And then I came in contact with Undutchables, which is a recruitment agency for internationals in the Netherlands. They only recruit non-Dutch speakers. So I looked for a job via them, but then they ended up hiring me. So I did my career within their organization and my experience there is that you come to a new country and not knowing the language, but you do have a good educational background and good work experience and you really want to get going.
And Undutchables is there, a very good example on what is pre-March 2023 because they celebrated their 25th anniversary two years ago during the COVID, but they started from day one hiring international talents. So there I was helping them setting up an office in Eindhoven. They were only five years old and they had already 20 employees out of 15 different nationalities, for example. So it is possible if you're just open to it, and it's a very good example that you can create so much more when mixing different nationalities.
Johnny Campbell:
So at the conference I'm at here today, the first keynote speaker shared some data around hybrid and remote working in 2023. And the speaker compared the companies who are office only, the companies who are hybrid and the companies who are online only, let's say are completely remote. And it showed that the number of companies who are office only is decreasing between 2023 and 2022. It showed that the number of companies who are fully remote is decreasing like a substantial amount, but the number of companies who are hybrid has gone up to I think something like 52 or 53%.
So we're seeing this shift that definitely office only is currently becoming the exception. And we're seeing a kind of revolt though against pure remote. So where does that leave us when we look at hiring international talent? Do you think hiring international talent will be as much a focus as it perhaps has been in the last two years considering maybe the data suggests companies are increasingly embracing something in the middle, a hybrid form, and does hybrid require people to therefore, be largely in the same location?
Karin Björkman:
So there are of course, sectors where they really do need talent, which is, for example, they're not present on the Swedish market where we mainly operate. Then they need to go abroad to see where do we find this talent with expertise that we need. And then depending on the role, and I mean, for example, if it's engineering or construction, etc, it needs to be local, then you need to be in the country. But if there are roles where you can work in a hybrid model or even a remote model, your pool of talent is of course, a lot bigger than just taking what's present locally.
Johnny Campbell:
Do you see it as something that it dominoes in particular sectors, like let's say areas, software tech, do you think such companies are more likely to have very international workforces versus let's say construction or banking in terms maybe more traditional and perhaps in each country would have only a domestic and very local national workforce?
Karin Björkman:
Yeah, exactly. Well, working within IT, it's predominantly English spoken. So those positions, they are being taken or international talent are then highly wanted. But on the other hand, I'm thinking, okay, why only within IT? Why couldn't we then for example, use English in other areas of sectors? And I think the construction business in Sweden, they need a lot of mancraft and or handcraft or staff. So they will need to step over to speak English, for example, in order to get the people that they need. And I think that the obstacle in embracing the international talents and wanting to integrate them into your organization is because organizations don't know how to go about because they think like, oh yeah, but there is a language barrier. But if you look beyond the language barrier, if you say no to someone because of a language barrier, you might say no to a future CEO, for example.
So it's very much on looking to, okay, where do we need to change in order to open up to see the possibilities or create the possibilities? I see that with many companies. For example, a lot of expats that comes on for CEO roles for three years, I mean, I know it's an incentive to work for a company. You're doing an internal management traineeship, etc, and you get to go to a country to be the country manager for example. But if you're going to a country for only three years, you're not going to learn the local language because you know are going to be sent out three years later to a next country. But then you are operating in an organization as a non-local speaker. So why can't the middle management also be non-local speakers, for example? We're having the mix because the higher management, then it's okay not to speak the local language, but the middle management they need to.
So I think, okay, if organizations open up to see the benefits on the talent, if you open up then to have English as a company language, then you can welcome so much many more talent if you just do not close the doors just because of the local language. However, if you are an international company that wants to open up in Sweden and you're going to do sales in Sweden, for example, then I do understand that you need the local language in that sense. But there's so much more than only sales in Swedish in that sense. So I think removing obstacles where people think that, oh yeah, but it's scary or we don't know how to do it, etc, then companies could go a longer way.
Johnny Campbell:
I mentioned at the start that there's a massive shortage of skills in so many different areas and therefore, other companies are hiring internationally to fill roles and internationally talent to fill roles. But is it just for that reason, do you think that companies should look at international talent? Are there other benefits apart from, well, we can't find anyone locally, we have to find an international person.
Karin Björkman:
Yeah, I mean, by opening up and look beyond to what your local talent is, you can increase the number of good people that you can hire. But of course, I mean, except for all those cliche things that it increases innovation and the creativity, you can just create a better mix. We make the fun or we joke about them. If you are cooking a soup and you just add salt and pepper, then you have a flat soup. But if you add some basil and other spices to it, you create a better soup. So why don't you do that with your staff in that sense?
Johnny Campbell:
I love that analogy. So it makes me think about the move to a lot of diversity focus for organizations, you know there's diverse workforces, and often they look at let's say the color of somebody's skin, their gender, etc, which absolutely are important factors that we mix it up, we drive more diversity. But a lot of the conversation is about diversity because the consumer or the clients of the customer is increasingly diverse and it's very difficult to produce, for example, an Irish person making a soup for someone in Kenya, both have an appreciation of what is preferable to the Kenyan palace because that person only knows what Irish people like. So talk to me about increasing the international world in which we operate in and the importance therefore, of your workforce representing the diversity of your customer base.
Karin Björkman:
Yeah, exactly. You're saying that you need to mirror the customer base that you have. We have a major streaming service here in Sweden. They say that we have customers from the age of 1, for example, till 99, and they're from Sweden all around the globe, back to Sweden. So we need to mirror our employees to do what our customers are. And if people or companies has that mindset today, we'll open up to do even more sales. I mean, unconsciously, you're excluding a lot of customers just by thinking one path. I mean, then you open up to sell even more, for example. So it's about thinking on, okay, where can we sell our products and where are our customers? And then mirror then the organization, and then the organization is then very motivated and to make it happen.
Johnny Campbell:
I spoke recently with a VP of HR from a massive food company, from a lot of consumer foods and the brands we have in our cupboards. And he was telling me that their company's policy around their product innovation, for example, is to look at international brands, and they have many international brands, soft drinks and foods that we all know well. But they also have extreme, very local brands that they keep local because they're recognizing that there's cultures, there's common brands and tastes across many different cultures. But different cultures are different preferences and tastes and it's really important for them to have that variety, to have folks who understand local tastes and can cater for that. But also can build international brands and products and that kind of glocal experience where you combine that local combination with global. To your super analogy, you don't want to all eat Campbell's tomato soup.
Karin Björkman:
Exactly.
Johnny Campbell:
The flavor and the richness is and the diversity of those different products. But talk to me about the practical steps of if you're an organization that is predominantly, let's call it a monoculture, it's not, let's say traditional business would be where you've hired domestically, you've hired from one region, not many instructional staff, maybe you've had a few over the years. How does one go about beginning to hire more international talent? And then what are some of the challenges that you might not expect that exist in trying to bring in international talent to that homogenous culture?
Karin Björkman:
Well, first of all, there's so many things that you can do, but starting with only small steps would help. I think looking to your organization is key and that the whole organization is on the same page. I mean, you can't have a hiring manager who does not want to move away from the homogeneous group, and you have a HR manager who really wants to embrace their diversity. So everyone needs to be on the same page. So education within the company is very important. As I said, I'm a very huge fan of the SocialTalent and the education of the people who recruits the people is very important. Because you can't have someone who has, for example, no international experience then sitting in, recruiting international people. So it's very important to train the organization or look into what do we need in order to open up.
So you can't say like, "Okay, well, we need international talents because it's good for us." No, you need to be ready for it as an organization and also the willingness. And if you don't have that, then it's going to be different or difficult. But there are so many steps. I mean, hiring a recruiter who's international, for example, or send all the people for a SocialTalent course for example. So small steps. And I hear from a lot of clients that say, "Oh yeah, but there's so many things we need to do, where do we start?" And it's like, we just start with the beginning and do small steps and then you will see the things will come automatically. But you need to have the willingness and the corporation from the whole organization.
Johnny Campbell:
Are there often challenges, Karin, when it comes to adapting to qualifications, for example? So accountancy qualifications, I used to recruit accountants and I used to own the international recruitment like you. And I found obviously that there's accountancy qualifications in the US where they have the CPA qualification, in England and Wales and other kind of regions, it's chartered accountants, certified management accountants. But in markets like Italy, you didn't follow a formal qualification in accountancy. It was more your degree and your master's. And I found it very difficult to move international talent around because there was a lack of understanding of the standardization of qualifications. Does that happen in many different industries where technical qualification is required that there's kind of inability to translate different qualifications across different borders?
Karin Björkman:
Yes, of course. There are a lot of institutes or organizations that do translate degrees in that sense so that you can see, okay, your education in that country is equal to this country. And I think that's also very important to raise that awareness as well. Because if you have recruiters who only knows about this education in Sweden or this education in the UK, they will only seek candidates that comes from that education. So again, awareness from what the degrees can be and not being afraid of challenging that as well. You're mentioning the finance area. I would say that would be sort of okay to transform your skills to other countries because there are numbers and there the gaps. And IFRS standards are fairly similar now all over, but it would be maybe more difficult for legal counsel for example, that really needs to know the local legal regulations.
But yes, you mentioning something that is important. But I think again, it's not knowing what other educations could be. So awareness and also, I mean, I work with recruitment and I advise clients, but I'm convinced that there is no perfect match. So I think you also have to look to a number of things when looking to a profile. Not only the credentials, but also, what have they been doing and what can they do with the experience that they have and also the personality, what would be a fit? And I think looking and more objective to a profile, then I wouldn't say you can always match everything in, but then you will increase the possibilities in finding solutions.
Johnny Campbell:
So about 15 years ago, Karin, my job involved recruiting people to come to the Cayman Islands and through work as in general. And whilst focusing on the skills of the talents, trying to attract people and assess them was really important. Half the job was involved in the kind of non-job elements, which typically involved whether the person had a family who was going to relocate with them, whether you had to research schools, try and find a job for the partner. Look at the suitability of the local environment to their background and whether they be successful there. I found it was an immensely different job than moving people in one country, which is what I'd done prior to that. It was a very different skill set. It was much more encompassing.
You have to become expert in so many more things and you have to balance the legal issues such as not asking about someone's family circumstances early in a process because it might bias them. But you still practically have to understand, do they have a spouse? Do they have children in schooling? Because these are real considerations that help them get there. So what's your advice and your experience in that bigger piece of mobility, which is actually the practicality of moving a person who usually is attached or often attached to a bigger family, and how do you balance those needs with the typical recruiting process?
Karin Björkman:
Yeah, exactly. Because if the spouse is not happy that the recruitment won't be happy either. So it's a very important ingredient in the relocation and international movement. However, international recruitment does not necessarily need to be that you are actually moving one family or one person to another country with a job. I mean, with the expats regulations, yes. But in today's world, there are so many people that are choosing to move themselves. So you can recruit people that really want to relocate or that have already relocated, for example. At Undutchables, we were making jokes about that 99% of the recruitments that we did was recruiting love refugees.
Johnny Campbell:
I love that.
Karin Björkman:
So you moved to a country, I'm one myself because I met a Dutch person and I moved to the Netherlands. So you have the intention on moving to a country, wanting to integrate, willing to adapt and be in a country and be able to use your skills. And that's another aspect of international talents as well, because then you don't really actually take them from one country and move them because you need the skills. The skills might be around the corner, even if they're not locals.
Johnny Campbell:
So this growing newer area of international hiring where you don't actually need to physically move anybody typically involves some legal implications. So we've seen this big growth of the legal laws, employer of record organizations. So explain that to me. Explain the mechanics of how people actually do it and do it legally so that you will have an employee who may never move to a different country, may stay in their home country, and you don't necessarily have an office or a legal jurisdiction there. How do employers get around that or anything work around those systems?
Karin Björkman:
Oh, do you mean that if I would say stay in Sweden, but I will work for our Irish company or…
Johnny Campbell:
Yeah, if you come work for SocialTalent, but you stay in Sweden and you live in Sweden 350 days of the year. So talk to me about how do I make that happen? Because it's not so simple as I just give you a contract.
Karin Björkman:
No, exactly. Because if you live in a country, you would need to pay local taxes and then you would need to show that you have a local income. So should I work for SocialTalent but living in Sweden, there are opportunities via a number of companies that can legally hire me in Sweden on a SocialTalent or on a contract with them, but working for you, me living in Sweden. So it's this remote working construction. So it's possible.
Johnny Campbell:
And how have you seen companies handling the challenges of normalizing salaries across markets? So for example, if I have a team of product managers all based in the UK, and I decide that my next two roles are going to be hired internationally and I hire somebody based in Lisbon and someone based in San Francisco, those two markets are very different salaries than the UK market, let's say. So how are you seeing hiring companies balance those different challenges today?
Karin Björkman:
Yes, of course. Salaries are according to national markets, but you see a number of companies applying secondary benefits that are from the country where the head office is, for example. I mean, I'm not sure if I can mention any names, but you see a lot of major Swedish companies having… What Sweden is very known for is their maternity leave for a year and a half. And that the partners can split this. I mean, on a International Women's Day, this is a nice topic to raise. They give that to their employees in America also, for example. So you can move around those benefits. And basically, you can do as a company what you want as long as it's not less than the local legislation.
Johnny Campbell:
So if Simon Johnson, who's listening live asking, "So you're basically outsourcing your personal payroll administration?" Is that what we're saying here? That you're outsourcing the legal and administrative burden and responsibility of payroll to accompany as a legal entity in the jurisdiction that you want to hire?
Karin Björkman:
Exactly. Should I come and work for you, but wanting to stay in Stockholm? Yes.
Johnny Campbell:
Simon, just for my context there at SocialTalent, we've embraced international hiring. We used to always, of course, hire lots of international talent in Ireland with an organization that only has an Irish legal entity. We were restricted by the people actually living in Ireland, but we had a diverse international people as you do in the Irish market. But since 2020, we worked with an employer of record and outsource partner. And they act as the legal employer in that country where for all intents and purpose of the employee is employer of ours.
And just as you mentioned Karin, we offer the same benefits to those employees, but we do it through the payment of our organization. They manage the legal obligations, but there's more excite to that, which is sometimes the jurisdiction we're hiring in may have better legal requirements around benefits. You might have more benefits than are legally obliged to give to somebody in a market that you as a company don't necessarily give. The US employers have a lot. Let's say a US employer might give 10 days holiday on vacation a year, hires someone in Sweden, and you can't give them 10 days' vacation because you have to follow Swedish…
Karin Björkman:
But they won't take the job!
Johnny Campbell:
They won't take the job. So I think there is that piece where it's not only do you have to normalize it, but you have a local advisor who helps you with those laws and requirements, it could be working hours. And there's many, it's not just payroll administration, there are a whole host of legal responsibility to understand. But tell me therefore, what is the benefit of having a partner who has this expertise, but surely that plays a part, Karin. You're considering international hiring and it's better to have a partner who really understands this. And maybe you could walk me through some of the benefits of working with an expert like yourself and your organization that have that knowledge.
Karin Björkman:
Yep, absolutely.
Johnny Campbell:
So what are some of those benefits? What are some of the kind of key reasons why an organization will partner with an organization like your yourselves to do this or to understand this?
Karin Björkman:
Okay, so I don't predominant do the payroll for others. So I do mainly direct recruitment, but I have partners then doing this for organizing the remote work. But the best benefit that you can get then by working with such a partner is that it's done correctly. And that you do offer your employees what's conformed to the market and that you do it right, because you want your employees to be happy, of course. So you should go by the books.
Johnny Campbell:
And of course, you don't want to be sued either. There's always the legal risk as well, which is interesting.
Karin Björkman:
Exactly.
Johnny Campbell:
So I want to go back to the topic of the diversity of the talent and that potential pattern. So from your either empirical evidence or your anecdotal evidence in working with customers, what are the benefits of international teams? Teams staffed with people from many different nationalities and backgrounds. What do you see as the core benefits and where would you say the most benefit can be found in terms of what kind of roles or sectors do you think the most benefit from having international team can be found?
Karin Björkman:
Well, first of all, as I said, the cliche things in creativity and innovation, but you have a larger pool of talents. And if you go with that, you will also mirror the society and you can gain a lot of trust from your clients also by doing that. If I look to the international teams that I've been working with, you enrich yourself as a person with working with someone who's different to you. One could think like, oh yeah, language barrier or no, that person is so different to me. But you learn so much from others. You can learn from someone who's native Swedish as well. But there are other aspects that you learn.
I personally think it's fantastic to learn how others are celebrating certain traditions, for example, or how people see different things. I mean, we are all biased, and if you have only grown up in one country, you've never been abroad, you only know your story. But if you speak to other peoples from various backgrounds, the mix of who you can become yourself is so much better.
Johnny Campbell:
So what's your advice going to try and find international talent to come work for you in a different country? Short of course, advertising it and people reaching out and saying, "Hey, I'd like to work for you from a different country." How would you go about sourcing or trying to find somebody who's probably more open to a role like that? Do you look for certain things? Are there keywords, particular backgrounds you search for? How do you distinguish people who are more likely to want to do this and be successful in doing so from all of the people out there?
Karin Björkman:
Now, we would always look to what a person's story is. I mean, had they been living abroad? What was the reason for that, and what have they been doing and what languages do they speak and why? Etc. Because it's like the top of the iceberg. You only see a person, for example, but you don't know what's below there. And if you really dig into it and ask questions, you can get so much information that will be beneficial for the hiring process.
Johnny Campbell:
Yeah, I remember when we used to search for folks, we'd look for, to your point, someone with multiple languages. We'd look for someone who's previously worked abroad, we'd look for someone who maybe has studied abroad, some sort of connection to an internship on a work placement. I think the hardest person is somebody who's never been abroad, has no absolute for languages, has nothing on their resume or background that would indicate that this person would want to work abroad. They may still want to work abroad or work for a foreign company. But to try and find someone who has a connection already at any point in their life, a parent in a different country where they studied the Erasmus in a different country, these to me were the breadcrumbs. I used to find a LinkedIn profile and Facebook profiles, I would say when I could start a conversation with this person.
Yeah, I remember I used to hire people to come to Ireland. You would find people who perhaps studied in Ireland for a month when they were 16. And I would call them up and say, "Well, do you remember…" I see you studied here. Did you enjoy it?" And they talk. "I loved it. Such a great time." "Oh, would you ever say consider coming back? Do you ever visit people?" "Yes, I love the country." And you start going, well, maybe you don't have to move country. What we're saying, we have a company for one of Irish people, you could work there, you could travel once a year, meet your colleagues, have a reason to come back. Making that connection is really important.
Karin Björkman:
And also, I read somewhere like, okay, if you have an accent, don't blame that person for having the accent, but see it as braveness because they are trying to speak or they have learned a new language. And also, the minority of people that are moving around and choosing to move countries. I think they're very brave and they're curious. So I don't like the word of mindset, but they do have a different mindset, which will also make them more flexible in learning what they need to learn for doing the job that they are going to do.
Johnny Campbell:
Yeah, my experience is there's a resilience as well for spending much time abroad. There's independence, you don't have your family structures around you to support you. You have to get new friends, you have to learn a new culture, that usually leads someone to be more open-minded. And Karin, it's been fascinating hearing your own background on this topic. I think we are increasingly living in a world where a ton is much more mobile, even if not physically mobile. We've got ways of working that don't even require you to move borders. You can digitally, as we are today, talk across multiple borders, across multiple oceans and seas and work together. But I was wondering as we go out to a close, if you could leave our audience with one tip today, from your own experience or background, whether it's recruiting international talent or seeing an international talent, whatever it might be, what would that one final note be?
Karin Björkman:
Yeah, so the thing I'm going to say is the idea behind my company, Beyondo, because the international talents, when they move around and move to another country and wherever you take a new job, you of course, need to adopt and be open, etc. But in this, you must not forget to be yourself, so be you and do. That's the idea behind our company name, Beyondo. So I would say be yourself and just do it.
Johnny Campbell:
I love that fantastic advice that as somebody who was an expat working abroad myself, I say the same thing to people is, do it. You'll never regret it. I see it in people that I worked with. I see 15, 20 years later, their careers have far exceeded the levels of people that were working alongside them who never did it. And there's something there. There's definitely a commonality where people who dare to be brave, who just do it and take the challenge, they inevitably for whatever reason, become so much more successful than happier.
Karin Björkman:
I had a fun thing happening last week. I got an email from a candidate that I recruited 20 years ago, and he went to the Undutchables office with a bottle of bubbles. He knew I wasn't there anymore. And unfortunately, Undutchables had a home office day. So he emailed me in saying like, "Okay, I wanted to bring this to your ex-colleagues because I love the way you saw my talents 20 years ago." And then he wrote what that particular job has made his life today with a successful family life and a successful career. So he wanted to come and thank us 20 years later. And I think that's why I'm doing what I'm doing, I must admit.
Johnny Campbell:
I love it. I often think about the people I moved across the world for different jobs and hope that it was a positive experience. And I hear from many of them, and people talk to them like it's mentally rewarding and a great thing to do. Karin, thanks so much for sharing your journey on repeating internationally morbidity, the benefits from external talent and international hiring. It's been great having you, thanks for joining us.
Karin Björkman:
Thank you.
Johnny Campbell:
And thank you for listening and joining us here today.
The Shortlist is a workplace, thought-leader focused talkshow that broadcasts every Wednesday. You can watch it live on LinkedIn and on YouTube. Or, why not stream as a podcast after?
The post The Strategic Benefits of Hiring International Talent, with Karin Björkman appeared first on SocialTalent.