We've enjoyed a full week of online events and digital resources around benefits and compensation. As this year's Employee Benefits Week comes to a close, let's take a look at what we've learned from the event's discussions and resources.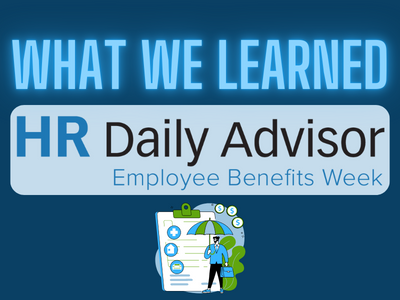 Monday
Join host and HR Daily Advisor editor, Bianca Herron, for the latest episode of the A Seat at the Table Podcast. Listen as she is joined by Sheri Atwood, Founder and CEO of SupportPay, as they discuss the gap in benefits for working parents navigating divorce and the overall cost of divorce in the workplace.
Panelists: Joshua Dunsby, PhD, VP of Client Advocacy and Consultant Relations at One Medical; Gwen Gollmer, Executive Director of Total Rewards at Ally Financial Inc; and Sony Jean-Michel Thornton, Senior HR Business Partner at Columbia University Medical Center
Key Takeaways:
Tuesday
Tune in for an exciting episode of our weekly podcast, HR Works, as host Josh Zygmont shares a recent conversation with experienced HR practitioner and recent Employee Benefits Week panel discussion guest, Sony Jean-Michel Thornton, Senior Human Resources Business Partner at Columbia University, Irving Medical Center. Listen as the two discuss the emergence of flexibility becoming a 'must-have' component of employee benefits in 2023 and beyond.
Speakers: Tate Hackert, President & Co-Founder of ZayZoon, and Jocelyn Meyer, People & Culture Business Partner at ZayZoon
Key Takeaways:
Wednesday
Dawn Myers, Co-Founder of Guided Leadership Solutions, shares some of her best practices for increasing awareness and understanding of the benefits available to employees.
Speakers: Dr. Nisha Basu, MD, MPH, Vice President, Clinical at Firefly Health, and Dr. Matthew Libby, DO, Medical Director at Firefly Health
Key Takeaways:
Thursday
"Faces of HR" Feature  | Featuring Robert Boersma
"Faces of HR" profiles your peers and asks them about their experiences, successes, challenges, current practices, aspirations, and opinions on topics impacting HR and the workforce. In this latest edition of our Faces of HR profile series, we look back and share some of our favorite responses from HR leaders who are driving change and making an impact across the DEI community.
Speaker: George Huntley, Founder Member & CEO of Diabetes Leadership Counsel (DLC) and its affiliate, the Diabetes Patient Advocacy Coalition (DPAC)
Key Takeaways:
Friday
Are you up to date on HR's latest lingo? As part of HRDA's Employee Benefits Week, HR Work Break takes a look into trending phrases in the benefits and compensation space. Check out this infographic to learn more!
The post What We Learned From … Employee Benefits Week 2023 appeared first on HR Daily Advisor.