In RedThread Research's 20 years of following the learning technology space, we think the past three years stand out as pivotal. Indeed, change is afoot.
In particular, the pandemic, generative AI and economic uncertainty have shifted how organizations and learning providers view the learning tech space. For example, employee development is being defined more broadly, and different types of technologies are supporting that broader definition. The learning tech landscape is also evolving, embracing a much more holistic approach that empowers employees in diverse ways.
Recently, RedThread Research published the Learning Tech Market Study, which outlines some of the changes the learning tech market is seeing. This study was based on a provider survey, demos and briefings; publicly available information; and conversations with providers and L&D leaders. This was a rich study with lots of insights, and we encourage you to read it yourself. In the meantime, I've outlined three of my favorite findings.
The learning tech market is growing … and consolidating
The market for learning technology solutions is thriving. Our database shows 426 solution providers targeting this segment, and we know that this isn't all of them (Figure 1).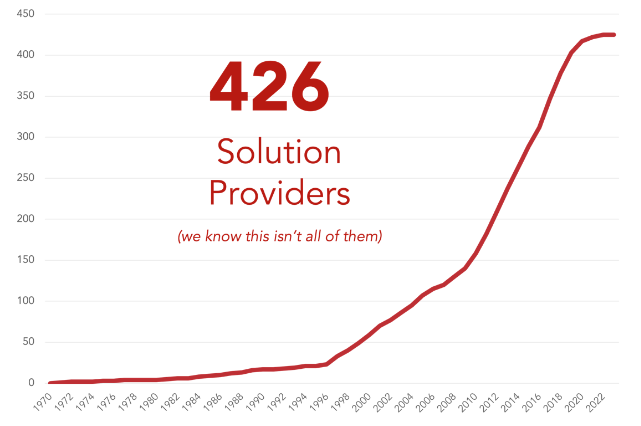 Not only are there more providers playing in the learning tech space, but many of them are very optimistic about their near-future revenue growth. No providers we asked expected negative growth, and 44% said they expected more than 31% growth.
Interestingly, providers with fewer than 50 employees are particularly confident: 61% predicted an increase of at least 31% in their revenue over the next three years. Providers with over 500 employees appear more cautious—56% express uncertainty about their revenue expectations for the next 3 years.
Growth is also being fueled by investment. We calculated that investment in the learning tech providers we track was around $3.6 billion since January 2022. Investment slowed starting in mid-2022, but given recent advances in generative AI, we expect investors to vigorously reengage with the learning tech space in the near future.
There has also been consolidation in the market: We identified 76 acquisitions since January 2022. Some of these acquisitions are by PE and investment firms. The majority of them are providers buying other providers. While a few purchased to gobble up their competition or increase their footprint and channels, most of the provider acquisitions appear to add specific functionalities to their offerings—buying rather than building.
More providers are offering more functionalities
For this 2023 learning tech study, we identified 35 unique functionalities that vendors offer. This is up from 32 functionalities in the 2021 study. The new functionalities we didn't necessarily see in 2021 include interoperability, individual learning budget, and skills academies. Figure 2 lists all of the functionalities providers tell us they offer.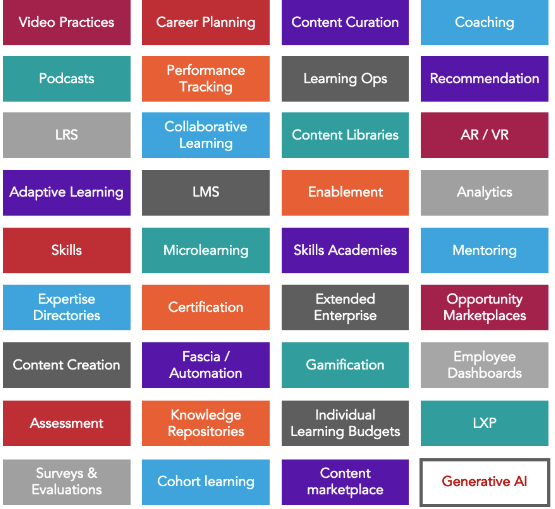 We are also seeing changes in the mix of these functionalities being offered. Figure 3 shows the percentage of providers in our database that offer each functionality (with the exception of generative AI), along with indications of whether the functionality is a primary focus, a secondary focus, or simply part of the solution but not a focus.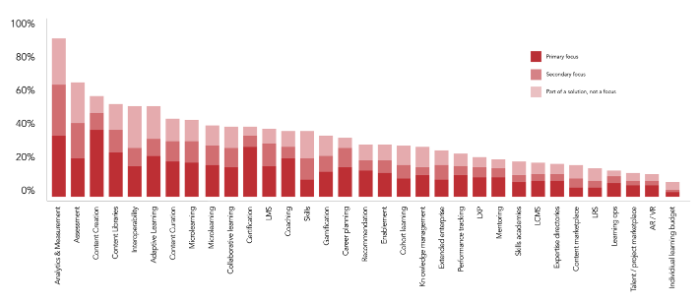 Given the growing importance of data, it's not surprising that the No. 1 functionality offered, as well as the fastest-growing functionality, is Analytics and Measurement. In 2021, only 34% of the vendors provided measurement, whereas in 2023, 89% of providers do, a growth of 55 percentage points.
See also: Balancing internal, external data to make the most of your people analytics
Other commonly offered functionalities include assessment, content creation and content libraries. Some of the more unique or less offered functionalities tend to be point solutions, including AR / VR, individual learning budgets and talent marketplaces.
While the percentage of providers that offer individual functionalities is compelling, we're more interested in the bigger picture. It appears that providers are expanding their definition of employee development and offering functionalities beyond the traditional. While many of the functionalities offered broadly tend to be more conventional, the fact that all of these functionalities have grown since 2021 gives us hope that we'll continue to recognize learning in all its forms.
Generative AI will change learning tech
Finally, let's talk about generative AI.  A quick note: While quite a few vendors tell us they are integrating generative AI, it's always in service of another functionality—an enabler, if you will. So, for example, content creation is enabled by generative AI, but generative AI isn't a functionality in and of itself. It helps the tech do something else more efficiently or effectively.
So, how much is it being used in learning tech? In the spring of this year, 29% of surveyed learning tech providers indicated they were experimenting heavily with generative AI and large language models (see Figure 4).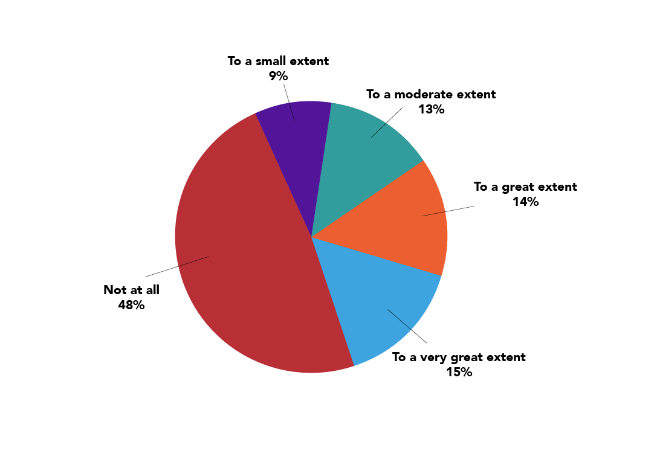 While the promise of this new technology is enormous, for now, we see providers utilizing generative AI cautiously, focusing on enabling existing functionalities like content creation, curation and search—functionalities that are low-risk, meaning they won't cause harm to employees or the organization.
Interestingly, however, a full 48% said they hadn't started experimenting at all. This feels risky and maybe a bit shortsighted. We think generative AI can radically change the learning tech space based on how we're seeing generative AI revolutionize other industries, how current providers are experimenting and the number of new entrants to the space.
As organizations continue to explore and harness the power of AI and large language models, we can expect further advancements and innovative applications that will shape the future of learning tech.
*
Each time we do this study, we are reminded of how complex learning ecosystems are within organizations. As organizations expand their definitions of development and as learning tech providers find ways to support that expanded definition, we think the L&D leader's job will get more complicated. Choosing an LMS that will work for the next 10 years is no longer enough. L&D leaders need to understand the market: who is playing, what they're offering and, most importantly, what questions they should be asking.
For more information on this research, please visit www.redthreadresearch.com or contact RedThread via hello@redthreadresearch.com.
The post 3 significant findings about the learning tech market appeared first on HR Executive.