"Unprecedented" was selected as a word of the year in 2020. And while its meaning has since been diluted due to sheer frequency of use, the word still rather accurately describes the current state of affairs. The world of work has been irrevocably distorted by the global pandemic; now more than ever, employees are looking to their leaders for guidance and support. But with no playbook to cope in such extreme circumstances, what should those in positions of leadership be doing? How can you get the best from your team when uncertainty lingers?
SocialTalent Live: The New World of Leadership was born out of these very topics. Joined by expert keynote speakers and a panel of industry experts, this digital event became a forum of discussion and insight. Here's what we learned… 
1.) People need to feel safe again
Jason Lauritsen – "No wellbeing, no engagement!"
Jason's presentation intertwined the importance of promoting wellbeing in order to ensure engagement and performance. He signalled that COVID is a wake-up call for leaders to get serious about the issue. And there are three areas that should be addressed. Firstly, organizations have to go all in on mental health support. While there is a lot of talk about it, there is a gap in the action. Jason even noted that only 31% of employees agree that their company has successfully addressed wellbeing. Next, leaders have to help people feel safe again. Employees need to know that they are being looked after and are a priority. And finally, managers have to be taught compassion. They have to look beyond behaviour, get to know their people and help when they are suffering. Prioritizing wellbeing is a longhaul solution for driving engagement.
2.) The buck stops with you 
Bev Kaye – "No love, no engagement!"
Bev used her bestselling book "Love 'Em or Lose 'Em" to frame her discussion on leadership. Diving straight to the heart of the matter, Bev says that 'people don't leave organizations, they leave managers.' There are fundamental things they need to do in order to retain and engage their talent. Bev's A-Z strategy for managers focused on three clusters – development and growth, relationships and culture. Within each, a letter of the alphabet is used to give guidance. For example, U stands for Understand and speaks to how managers need to listen more; O stands for Opportunities for employees to grow their career; and I stands for Information, relating to how important it is to keep your team in the know, especially in these turbulent times. But the buck stops with the manager, Bev says. So being proactive and invested in your talent is what will retain them.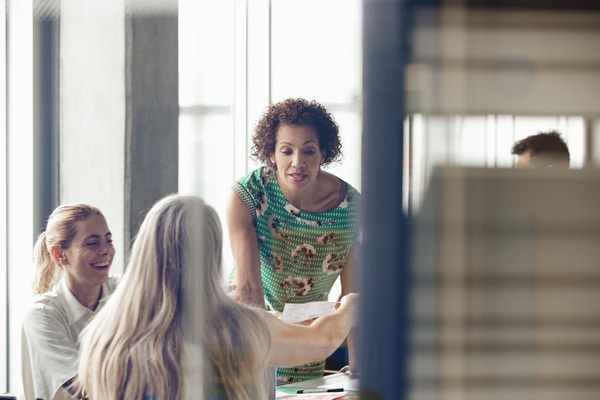 3.) Engage conflict, encourage disagreement 
Michael Wilkinson – The 8 core practices of facilitative leaders
After running through the eight core practices of facilitative leaders, Michael got the audience to choose the topic they wanted more insight on. Opting for "engage conflict, encourage disagreement," Michael then set out his mission statement: creative abrasion results in better solutions. He indicated that there are three levels of disagreement, and leaders need to be equipped in order to deal with each successfully. And while it may seem like an oxymoron to encourage disagreement, Michael believes that when dealt with appropriately, the solutions become better for all involved. Using various role play techniques, he showed how depending on the level of disagreement (1-3), a leader's tactics have to change to reach parity. His final key takeaway for leaders was that by engaging conflict, you can resolve dysfunction.
4.) Show up as a human first
Our industry panel continued the discussion about leadership with considerable aplomb. Ger's call for empathy, patience and compassion underscored her whole thesis. With people's loss of autonomy and perceived sense of anticipatory grief, she advocates for leaders to lean into their people, learning to adapt and support. Melkeya echoed these sentiments but also spoke of the importance of transparency in building the authenticity of a leader. The hope is to develop trust and show genuine concern for the health of the team. Amber then spoke about the 3 Hs – head, heart and hand. Leaders need to set clear visions for success, empower their employees and be agile in their execution. But, it was Richard's final point to 'show up as a human first' which seemed to tie the threads of the discussion together. Humanity and empathy are now non-negotiable aspects of the modern leader.
Don't forget to stay up-to-date on all things SocialTalent by subscribing to our fortnightly newsletter. And if you're interested to see how our learning platform might help your organization hire better, get in-touch with us today!
The post 4 key learnings from SocialTalent Live: The New World of Leadership appeared first on SocialTalent.