After companies and organizations have navigated through a disaster, scandal, or other emergency, they should not assume they'll never go through a similar experience again.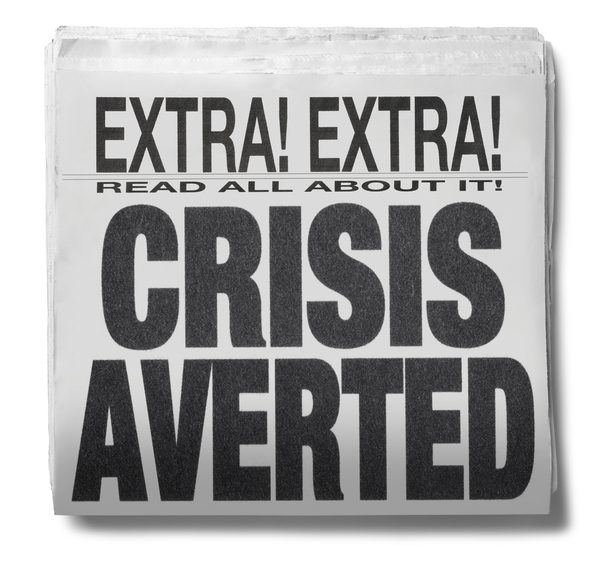 In reality, it is as important to guard against a relapse as it is to prevent and prepare for a crisis in the first place. I call this the Crisis Management Law of Holes. The first law is: "When you find yourself in a crisis, don't dig yourself deeper into a hole." The second law is: "After you've climbed out of one crisis, don't fall into the same or a different hole."
A Grande-Size Crisis
Starbucks is a good example of a company that did not follow the second law.
As reported by RetailTouchPoints.com, "On April 12, 2018, two black men asked to use the restroom in a Philadelphia Starbucks. They were denied access because they hadn't made a purchase as required by corporate policy, and they were asked to leave. After refusing to comply, a white manager called the police and the men were arrested on suspicion of trespassing. It was later learned that the gentlemen were waiting for a business associate before making a purchase."
The incident, which was captured on video, generated international headlines such as this one in The Wall Street Journal: "Starbucks Faces Backlash Over Arrest of Black Men."
In an online post, Starbucks' CEO promised to "make any necessary changes to our practices that would help prevent such an occurrence from ever happening again. We also will further train our partners to better know when police assistance is warranted." Starbucks later closed all of its restaurants for a full day to provide training to employees to ensure similar incidents would not be repeated.
Starbucks did a good job climbing out of the hole—only to fall back in.
Three months later, six police officers were asked by an employee to leave a Starbucks restaurant in Arizona because they reportedly made a customer feel uncomfortable. Starbucks apologized to the police, and Rossann Williams, Starbucks' executive vice president and president of U.S. retail, posted this message on Twitter: "What occurred in our store on July 4 is never the experience your officers or any customer should have, and at Starbucks, we are already taking the necessary steps to ensure this doesn't happen again in the future."
The episode sparked another round of negative publicity for Starbucks.
Avoiding Holes
A good first step in trying to prevent worst-case scenarios from coming true is to first imagine what you'd do if they became a reality. For example, do you think your company computers could never be hacked? Then how would you react if you learned cyber thieves were in control of your computers and were threatening to release embarrassing documents to the public unless you paid the hackers $1 million?
If this nightmare scenario became a reality, what would you wish you'd done to prevent the ransomware situation? Then why not take those preventive steps now?
Review and Update Policies and Protocols
If you can't remember the last time you thoroughly reviewed each one of your policies, procedures, and protocols, then make it a priority to do so soon. Not only could they be out of date, but you also may not even have the right ones to address relevant laws, court decisions, new technology, or new realities that affect your business, industry, or profession.
For example, did you have policies in place before the pandemic on how to respond to the national health emergency? Since the start of the crisis, have you implemented policies or procedures to deal with it?
After you've reviewed and updated your policies, review them on a regular basis—at least once a year—and immediately after any news, developments, or trends that could impact your company.
Communicate
Updating corporate policies and protocols is one thing. Educating and informing those who should know and adhere to them is quite another. Don't leave this to chance. Make sure all employees are kept informed and up to date about the policies that affect them and which they are expected to follow. This can be done in a variety of ways, including during the onboarding process for new workers, in the course of performance reviews, at staff meetings, in e-mail updates, on websites, etc.
But don't assume that just because you told employees about a particular policy that they will remember or follow it. Too many companies have learned that lesson the hard way.
Practice
Having a crisis management plan without ensuring it will work is not much better than having no plan at all. Just as you should periodically review the status of your procedures and protocols, it's important to hold regular practice sessions to make sure people in your organization know what they should do and how to do it in a crisis. That's especially true when it comes to preventing a crisis relapse—how likely is it that your employees will make the same or similar mistakes that created the first crisis?
Learn from Others
You can receive free continuing education on how to avoid falling back into a hole by studying the successes and failures of other companies and organizations that have, more than once, found themselves in the harsh glare of the public spotlight for something they said or did. After all, it's always better to learn from the mistakes of others than to make those mistakes yourself.
Reality Check
Unfortunately, there are no absolute guarantees when it comes to preventing a crisis relapse. But this much is true: The more vigilant, determined, and persistent you are in trying to avoid repeating an unfortunate event or incident, the more likely it is you will not fall back into the hole a second or even a third time.
Just ask Starbucks, which has been able to avoid another crisis …
… so far.
The post 5 Ways to Prevent Relapsing into Another Crisis appeared first on HR Daily Advisor.