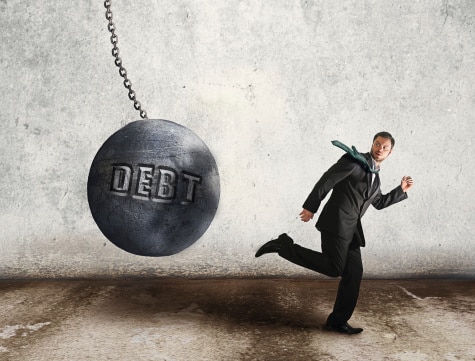 The student loan debt crisis in the United States isn't much of a secret anymore.
Currently, there is $1.67 trillion in total outstanding student loan debt in this country. In fact, student loan debt is the second-largest class of consumer debt in the US, trailing only mortgage debt which is near $10 trillion.
Recent data from LendEDU, a financial services company, found that the average student loan borrower owes $28,565 in student loan debt after leaving their respective college campus and entering the working world. For most young adults, student loan debt is a financial burden they will be paying off for a decade at least.
And, there are currently 44.5 million student loan borrowers in the US.
For the most part, we as a nation watched as the cost of college continued to climb and the student loan debt bubble continued to grow uncontrollably. Only in the last few years did we start to see the dual issues of the cost of higher education and rising student loan debt garner the national attention they have long deserved.
Even presidential contenders in the 2020 race brought up student loan debt within the first 20 minutes of debates, whereas before the issue would be lucky to catch even a few minutes of time.
With student loan debt creating an extremely difficult financial burden for more young Americans than ever before, there is no better time for employers to begin offering student loan repayment employee benefits to help attract and retain the best talent.
This is especially true right now as the coronavirus pandemic has hampered the finances of so many consumers, and many are struggling with student loan debt payments. For example, a report from LendEDU found that 55% of adult Americans with student loan debt are worried about their ability to meet monthly student loan payments due to the pandemic and its impacts.
PREMIUM CONTENT: The Global Gig Economy
Another report from LendEDU found that among 1,000 federal student loan borrowers, 54% would not have been able to make their very next student loan payment had coronavirus relief from the government not come.
Employers have a unique opportunity to step in with their financial resources to offer a student loan repayment benefit to potential employees. The way it would work is quite simple and very similar to an employer 401(k) match.
Each month, an employer makes a tax-free student loan payment worth a few hundred dollars to an employee's student loan account. There are already companies, like Goodly, which specialize in this type of benefit and will set up the payment infrastructure for your business.
By offering this employee benefit, employers will have a leg-up on the competition when it comes to hiring the best young talent, and there's proof of this.
A LendEDU survey of 1,000 student loan borrowers found that 58% of them would prefer a student loan employee benefit over additional vacation days. Another 71% said an employer offering a student loan benefit is either "very important" or "somewhat important" when that job is under consideration.
Finally, 58% of respondents said their employer offering a student loan benefit is either "very important" or "somewhat important" when deciding whether to remain at that job.
A student loan repayment employee benefit is one of the most relevant and innovative ways for employers to attract and retain the top industry talent. The student loan debt crisis calls for it and the data supports it.