We've enjoyed a full week of online events and digital resources about leadership. As this year's HR Leadership Week comes to a close, let's take a look at what we've learned from the event's discussions and resources.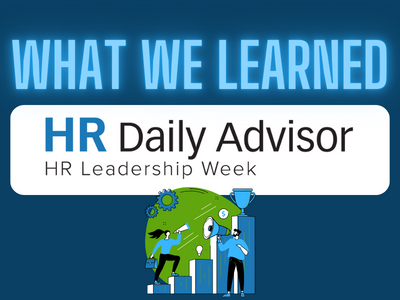 Monday
As employee engagement has become a growing priority for organizations, by now most have implemented methods to gather input from employees—suggestion boxes, hotlines, focus groups, engagement surveys, etc. But are leadership teams using this feedback strategically? HR Daily Advisor's Lin Grensing-Pophal takes a closer look at the value of listening to employee feedback and the high-cost of poor communication that starts from the top.
Panelists: Amy Haworth; Sarah Devereaus, Leadership Coach and Advisor at Third Coast Coaching; and Darlyne Keller, President/CEO at Rock Valley Credit Union
Key Takeaways: HR is on the front line of the change that's required for organizations to keep up. To lead effectively, HR must have an unwavering belief that they can make a difference. What does that leadership look like in practice? You should focus on curbing toxic behavior, cultivating employee engagement, and taking a stand to align company values with corporate culture.
Tuesday
Tune in for an exciting episode of our weekly podcast, HR Works, as host Josh Zygmont shares a recent conversation with Dr. Jessica Kriegel, Chief Scientist of Workplace Culture for Culture Partners. Listen as the two discuss the trends that are defining (and challenging) today's workforce, and how business leaders can embrace a new approach that embraces fewer meetings and more productivity.
Speaker: Neil Bryant, Vice President of Coaching and Leadership Development at Bluepoint Leadership Development
Key Takeaways: If your people don't trust you, they're not going to bring themselves to work. Each time leaders communicate with their people, it's an opportunity to reengage and reestablish trust. Large group communication is often less interactive and is set to share a message rather than collaborate. Small group communication has more back-and-forth, requiring more engagement and collaboration.
Wednesday
Heidi Hartman, President & CEO, Heidi Hartman Consulting, shares advice on the importance of emotional intelligence (EQ), a learnable skill that employees are look for from their leaders.
Speaker: Jayson Saba, VP of Portfolio Marketing at UKG
Key Takeaways: Burnout affects workers at every level of an organization, and leaders are no exception. How can you identify leadership fatigue? Remember to check in with your leaders and check for signs of mental exhaustion, dwindling engagement, and reduced efficiency. Encourage leaders to take time for themselves, set boundaries, and recharge.
Thursday
"Faces of HR" profiles your peers and asks them about their experiences, successes, challenges, current practices, aspirations, and opinions on topics impacting HR and the workforce. In this latest edition of the Faces of HR series, we meet Susan LaMonica, Chief Human Resources Officer at Citizens.
Speakers: Dr. Natalie Baumgartner, Chief Workforce Scientist at Achievers, and Norm Sabapathy, Executive VP of People, Communications, and Technology at Caddillac Fairview Corporation
Key Takeaways: There's no doubt in the data: recognition is a key driver of engagement and retention. Employees who are recognized frequently and meaningfully are more engaged, productive, and committed to their job. But does recognition need to come with points or money to be effective? Or could a simple, meaningful "thank you" be enough to move the needle on engagement and retention?
Friday
Join host and HR Daily Advisor editor, Maddy Collins, for the latest episode of the HR Work Break Podcast, featuring a recent conversation with Curtis Bateman, VP of International Direct Offices at Franklin Covey.
The post What We Learned From … HR Leadership Week 2023 appeared first on HR Daily Advisor.