Editor's Note: May is Mental Health Awareness month, throughout the month we will feature insights and best practices to help HR professionals accommodate workers with mental health issues. With Memorial Day right around the corner, today's focus is on supporting veterans in the workplace.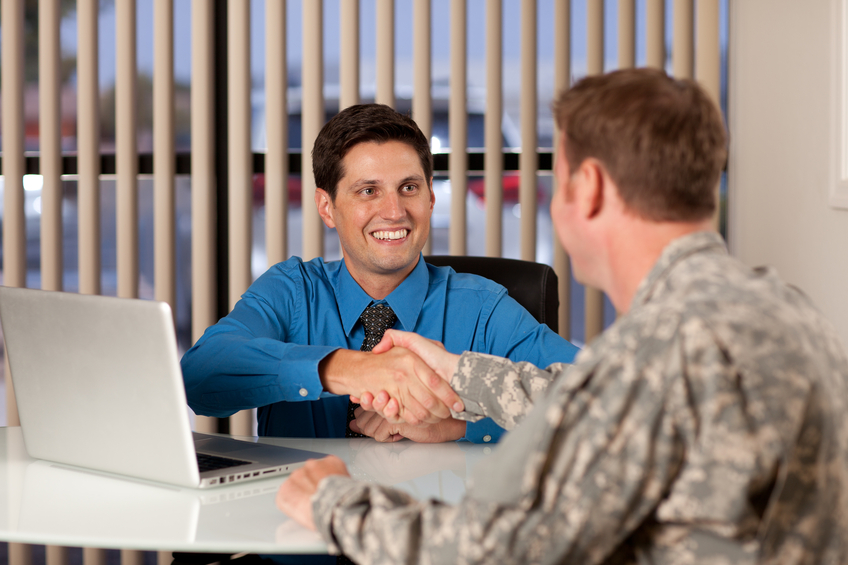 As our country approaches the 20th anniversary of 9/11, I'm reminded of how many people I met during my naval career who joined the military out of sheer patriotism in direct response to those 9/11 terror attacks.
It's hard for me to believe that many of those people who ended up making the service a career will soon be eligible for a 20-year retirement! It's estimated that approximately 200,000 people leave the military each year. However, the term "retired" when it comes to military service is often in name only, as the vast majority of this population will continue to work for many years to come.
What should you, as a Human Resources professional, know about supporting these veterans as they return to your workplace?
Transitioning into Civilian Life Has Challenges
Transitioning from military to civilian life can pose challenges. Although many servicemembers have handled the pressures of deployment, their readjustment to civilian life can be more daunting. Disengaging from the familiar, one's "comfort zone," and adjusting to an entirely different system of operation place great demands upon veterans. Generally, it can be the cause for frustration, dissatisfaction, and anxiety.
A veteran may find difficulty in adapting to daily common civilian life, which includes life in your workplace. The structure found in the military is imprecise as servicemembers return to the civilian world. Veterans are now responsible for instituting structure within their own life. Any psychological struggles such as post-traumatic stress disorder (PTSD) or traumatic brain injury (TBI) will have to be worked through with professional and personal support.
Entering your workforce presents nerve-racking demands upon the transitioning servicemember. It may be the first time the veteran will have to seek employment in the private sector, having made the military his or her initial career. As I recall my entrance into the civilian world after 30 years of service, I didn't even know what "business casual" clothing meant!
Having entered the workforce, the veteran may discover a lack of camaraderie, which is a huge part of military service and a strong contributor to mission success. He or she may feel out of place in workplace attire or unfamiliar with conversation topics. After serving in the military, a veteran could have the perception that your workplace "vibe is too lax," as he or she is used to a disciplined, regimented environment—unlike many offices!
"Every person for themselves" is a strange concept to employees who previously were in military service. But for many transitioning veterans, job security poses the greatest threat. Despite the hardships and multiple deployments, one comes to rely upon the knowledge that a paycheck will always be there.
Proper Onboarding Is Key
It's crucial for HR departments to have an onboarding process for any new employees, but does your HR department have a specific process in place to handle the unique needs of our veterans?
Many veterans have significant leadership experience, not only with leading people but also with the responsibility of being in charge of millions of dollars of equipment. Your company can benefit by tapping into the skills a veteran may bring to your company.
Other Insightful Tips
Some helpful tips to remember as employers deal with veterans:
Not every veteran has PTSD or combat experience. Do not be afraid to approach veterans out of fear of "triggering" them or causing discomfort. Most veterans enjoy talking about their military service. They will speak to their own comfort level. At the same time, be respectful, and stay away from overly intrusive questions about combat experience.
Consider having a team meeting to prepare for the arrival of a newly hired veteran. Will your new employee need any special accommodations? Some veterans have disability ratings from the Veteran's Administration, so it's important to identify those issues in advance.
Remember that a "disability" often is not visible and can range from having PTSD to sleep apnea. Recognize that there are federal laws that require the workplace to make certain accommodations for its employees.
What is the culture surrounding military service in your organization? If a veteran was deployed and is returning to your office, appreciation for the veteran and his or her family can be easily accomplished with flowers and a warm welcome from the team.
Good communication is essential! Engaging with the veteran to review his or her expectations is as important as HR providing information about your performance expectations. Veterans have been taught to communicate in the "BLUF" manner: Bottom Line Up Front. They appreciate direct communication from supervisors!
We know it is important to maintain awareness of how any of our employees work together. Remember that a veteran may have additional adjustment difficulties in "putting on the brakes" in civilian life, particularly if he or she has just completed multiple deployments or has worked in a high-tempo operational unit.
The military has been operating at a higher-than-normal tempo ever since 9/11, with additional demands being placed upon servicemembers. Veterans do not have to be handled with "kid gloves," but be mindful there are some who experience substance misuse and general adjustment problems in civilian life after they leave the service.
The vast majority of veterans are self-starters who can add high value to your company's team. Having additional knowledge and sensitivity to their needs can make all the difference to them, as well as your organization.
There are many resources for your HR department to utilize in learning more about this special population. Some of these resources include:
America's Heroes at Work.
Department of Veterans Affairs VetSuccess.
Veterans Hiring Toolkit (published by the VA).
Department of Labor VETS.
The U.S. Equal Opportunity Commission has a guide for dealing with needs of veterans with disabilities (Veterans with Service-Connected disabilities in the workplace and the Americans with Disabilities Act).
Feds Hire Vets (great information for HR hiring managers).
The post An HR Professional's Guide to Welcoming Back and Supporting Veterans In the Workplace appeared first on HR Daily Advisor.