Onboarding – the process of helping new employees become fully integrated, contributing members of an organization – is often thought of as one of the most important steps in HR management. Why?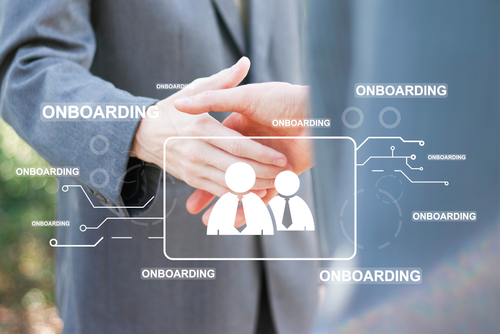 Because how HR managers handle a new hire's first few months can be critical to the employee's longer-term success. Organizations lose 17 percent of new recruits during the first three months of being hired, making this an extremely vulnerable period for talent acquisition.
Moreover, 88 percent of workers say their companies do not do a great job at onboarding new employees. Clearly, this problem needs to be solved.
During the pandemic, many orientation processes went online, and organizations saw how this drove both increased operational efficiency and a beneficial user experience. This led many HR teams to ponder how they could go a step further to digitize more of the overall onboarding process.
As digital onboarding – or, integrating new employees through online platforms – gains in popularity, what supporting technologies are emerging to make the process even better?
Enabling Bullet-Proof Identity Verification Through Biometrics 
Today, many companies are unnecessarily wasting a lot of time in the orientation process, verifying new employee identities, and making sure that new hires are who they say they are. This process is often laden with paperwork, tedious manual checks, and long waiting periods.
Enter biometrics, which automate the recognition of individuals by means of their unique physical characteristics. Modern-day biometrics – whether through face, voice, iris or fingerprints – can be used to verify with near 100 percent certainty that an individual is one in the same person as is represented in accompanying physical documentation.
These tools can also validate the authenticity of identity verification documents like licenses and passports. While extremely effective, it used to be that only large, well-funded companies could afford to add biometric capabilities to their processes.
However, new SaaS-based services are now bringing this technology within reach, for even the smallest HR (and business) operations.
Biometric data collection brings many benefits to the orientation process. First, it can reduce a company's carbon footprint by eliminating paperwork. Second, biometrics can protect organizations by combating the increasing threat of fraudsters applying for and securing remote jobs.
Last June, the FBI issued a warning regarding an increase in fraudsters using stolen personally identifiable information (PII) to apply for and secure remote work and work-at-home positions. Once they fraudulently secure a position, these nefarious actors can make off with troves of sensitive information, including company logins and sensitive client data.
Third – but equally as important – biometrics can decrease a new employee's time to value and make him/her feel more secure. Biometrics collected at the point of entry can be leveraged for ongoing authentication – quickly enabling highly secure access to the applications, systems and documents an employee needs to do their job and get up and running faster.
In addition, physical security systems incorporating biometrics can provide assurance that an organization takes employees' physical security and safety seriously.
Ramping Up Online Learning Platforms with Virtual Reality and Gamification
Online learning and training is a key component of digital onboarding; it provides new, remote and globally distributed employees with the ability to train regardless of time differences, language barriers and logistical issues.
Today, many companies are bringing their online learning platforms to the next level, incorporating components like virtual reality (VR) training which can recreate otherwise dangerous work situations in risky industries like oil and gas, manufacturing, healthcare and aviation.
Companies are also benefiting from incorporating gamification in their online learning platforms – applying typical elements of game-playing like point scoring, competition with others, giving rewards like badges or points, and more. Adding gamification to online learning platforms inspires users to engage with the content and can make otherwise unenjoyable training fun.
Statistics show that a significantly larger percentage of employees who experience gamified training feel motivated compared to those who do not.
AI and Machine Learning Take the Bumps Out of Digital Onboarding
Throughout the onboarding process, it's critical to help employees feel engaged and inspired. Today, a large majority of companies have started using AI to automate their onboarding processes, and digital onboarding is quickly following suit, with many organizations embedding AI and machine learning into processes.
Specifically, AI chatbots can guide new users through the digital onboarding process, answer questions in real-time, and provide personalized support, helping to enhance the new employee experience. Moreover, machine learning algorithms can analyze user behavior and provide feedback to continually improve these processes, such as training.
Here, tools can help organizations pinpoint areas where new employees are most likely to disengage or have trouble understanding materials, and organizations can use these insights to refine their digital onboarding and training processes as needed.
Moreover, organizations with strong digital onboarding programs are more likely to make a positive first impression, retain talent and even see a positive impact to their bottom line. While certain aspects of onboarding used to be a drawn out, tedious process, the move to digital and the emergence of supporting technologies such as biometrics, VR- and gaming-infused learning platforms, AI and machine learning can greatly benefit organizations as they build their digital onboarding toolbox now and in the future.
Lindsey Savarino is Senior Director of Human Resources at Aware, a Boston-based biometrics software and services company.
The post <strong>Building Your Digital Onboarding Toolbox Now and In the Future</strong> appeared first on HR Daily Advisor.