For Google Chief Diversity Officer Melonie Parker, diversity, equity and inclusion isn't just a professional focus—it's a personal mission.
"DEI isn't just a buzzword for me—it's personal," she says. "I know what it feels like to be the only person in a room who looks like me."
As a woman of color who grew up in the segregated South, Parker says she feels a "great responsibility to advance a more diverse workplace" at the tech giant, which employs nearly 140,000 people worldwide.
Parker joined Google in 2017 as the director of people operations and the next year took on the role of global director of DE&I before taking the helm of the organization's DE&I work in 2019. It's a role, Parker says, that involves "bridging divides, giving voice to marginalized groups and creating the kind of workplace where everyone belongs." And it's one in which Google's people have to come first.
"I want to make sure I'm prioritizing the success and wellbeing of our employees with everything I do," Parker says.
She recently spoke with HRE about how that goal is coming to fruition.
HRE: As a Black woman, what kind of mindset does it take to stay resilient working in a field dominated by white men? Have there been times when that mindset has faltered?
Parker: My mindset is one of commitment to success on my own terms. I'm not trying to succeed to prove others wrong or just to make a point. I want to succeed because I've put in the work, and because I think I can make a difference. Ultimately, I think believing in what I do has given me the ability to push through any challenges and stand tall.
HRE: You came into the CDO position at Google after a few high-profile allegations that Google's culture was exclusionary toward gender and racial minorities. Did that influence how you approached culture work; if so, how?
Parker: We want our workplace to provide a sense of belonging—where every colleague feels seen, connected, supported and proud to be a part of Google. This isn't an easy task when you think about our scale; today, Google has offices in over 170 cities spanning nearly 60 countries and we have over 100,000 Googlers in offices around the world. But it's important work that needs to be done, and I see this as a huge opportunity for us. At the same time, it's no secret that the tech industry has a diversity problem. Google was the first big tech company to publicly hold a mirror up to itself when we published workforce representation data in 2014, and what we've found by continuing to emphasize transparency and taking a deep inward look with our Diversity Annual Reports each year has really helped guide our diversity and inclusion efforts, both internally and externally. For example, we want to help colleges—and especially HBCUs, where 25% of African American graduates with STEM degrees graduate from—develop the next generation of tech workers that are representative of our country and our customers, and we just announced a $50 million investment in 10 HBCUs to support their efforts.
See also: Are HBCUs a key to diversifying the talent pipeline?
HRE: What prompted Google to launch the DEI Advisory Council? What have been some of the most immediate impacts?
Parker: The DEI Advisory Council is part of our commitment to make Google a better and more equitable place to work. We launched it to bring together a group of people who know how to make a difference and are committed to making changes. We don't merely want to address racial and gender disparities and inequities on paper. We want to look at the way they can manifest in the workplace and take steps to protect and elevate every Googler. This is one step we're taking to ensure we're held accountable for creating diversity, equity and inclusion in the workplace.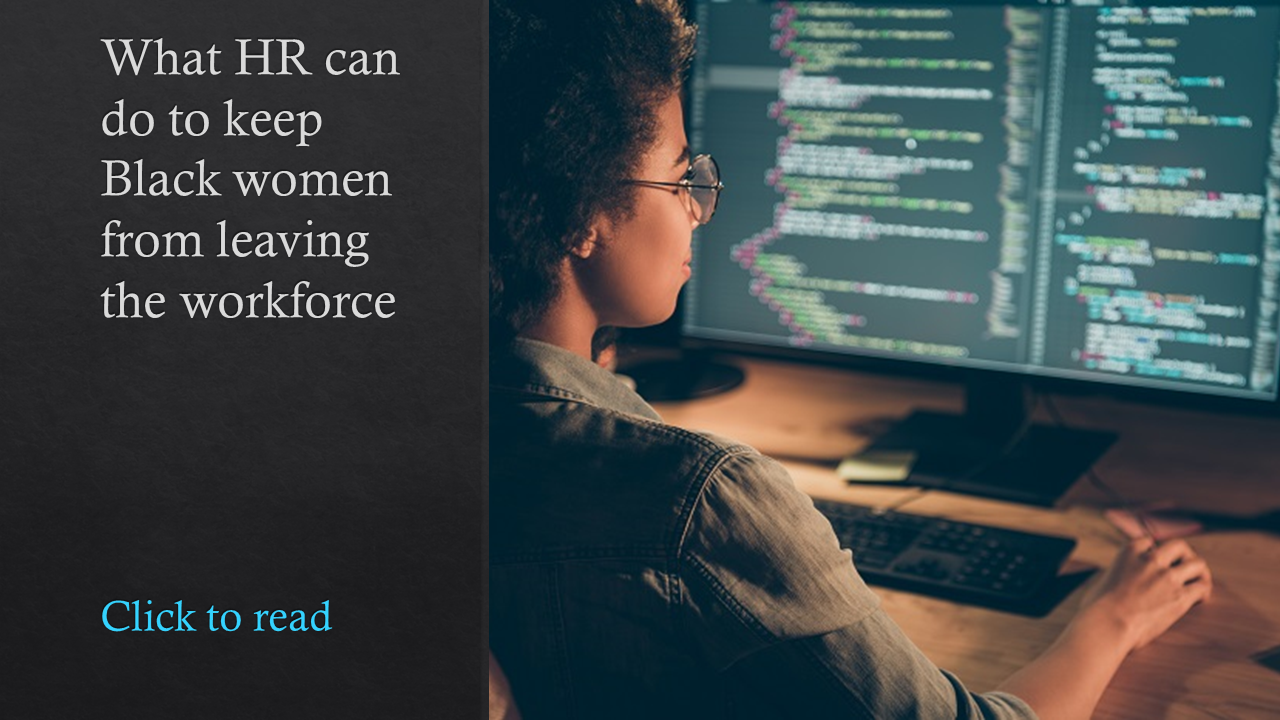 HRE: What long-term effects do you think the pandemic could have on the advancement of women into leadership roles, particularly women of color? And how can organizations be working to overcome those obstacles?
Parker: We've seen that people in underrepresented groups are being impacted disproportionately more during the pandemic. During this time, we've really leaned into our values to take care of Googlers and their families, and we found out flexibility is key. We focused on providing an outstanding level of care during the pandemic: from introducing new types of leave for parents and caregivers to expanding our wellbeing resources to working with managers and leaders to help them lead with empathy and get tougher on prioritization—and de-prioritization. As our employees continue to work from home during the COVID-19 pandemic, some teams have experimented with "no meetings weeks," which create space for Googlers to either focus on independent work or make it easier to switch off entirely and take a vacation. We also launched global days off to help employees rest and recharge.
HRE: Now more than a year after the murder of George Floyd, do you think corporate America has effectively kept up the momentum to push for racial equity that we saw last year?
Parker: I can't speak for other companies, but I can say that here at Google, there is no Band-Aid solution to racial equity, whether it's internal at Google or how we interact with the world. We're serious about putting in the work and making sure that Google is a diverse, equitable workplace. The last year has been a difficult one in so many ways, but I think it's crucial that corporate America remembers that, even if people aren't out in the streets protesting every day, we still have a long way to go to create true racial equity. And that movement might have started on the streets, but it's going to transform every boardroom. It's my job to make sure we don't forget and that pursuing equity is at the core of everything we do, and I'm incredibly proud of this work.
HRE: More companies today are bringing a chief diversity officer into the C-suite—where do you see the future of this role headed?
Parker: I believe the chief diversity officer is likely to be one of the most important leaders in any company. Diversity is too often thought of as just another box to check on a list, but it affects every aspect of business. Products will be more innovative if the people building them come from a wider array of backgrounds. People will learn more from their colleagues if they're not all from the same walk of life. Some people will be able to catch red flags that others won't or be inspired by something new and different. No business wants to be homogeneous or stunted. Diversity guarantees not just a focus on equity but a huge leap forward in innovation and imagination.
See also: Save the date for the 2022 Virtual HR Tech Conference
Here at Google, we try to lead by example, and that includes issuing an annual diversity report, which I mentioned earlier, in which we make an honest appraisal of what we've accomplished and where we need to do better. I think this encourages other companies to do the same. We publish our reports even though they tell us that we still have a lot more work to do. If we want to create meaningful change, we and other companies will need to continue to be transparent.
HRE: I saw you feature the quote "Lift as you climb" on your Twitter profile. What does that mean for you, particularly in the context of your work at Google?
Parker: I've worked hard to get where I am, but I also know that, in the face of structural issues, many people are being kept down. Success requires grit and determination, but it also requires mentorship, luck and resources. So, as we find more success and as we climb that ladder, we have to make sure we're helping people who would otherwise be kept down. Just as others have paved the way for us, we need to pave the way for the next generation. At Google in particular, I see it as my personal responsibility to make sure that everyone gets the opportunities they deserve and that no one is left behind.