Editor: Today on SocialTalent, Niall from our content production team shares his thoughts on how you can get the best from your video content. Niall is as discerning as they come, so if you're looking for some top notch advice and recommendations, you've come to the right place!
At SocialTalent we've always been a proponent of using video to communicate throughout the business.
Whether it's for onboarding new employees, sharing process tutorials or giving a weekly update to your team, video is a great way to efficiently deliver an impactful message… and it doesn't have to be difficult.
So here's a quick guide to the four key areas in making your video the best it can be.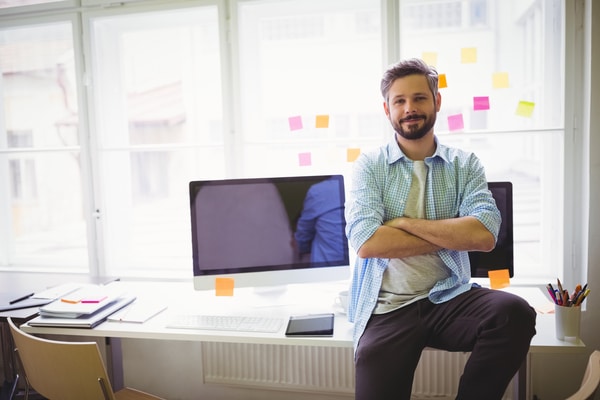 1. Audio
You might expect a guide to good video to start with, well, video but it's your audio that will really determine the effectiveness of your message. The average person will tolerate bad video if it comes with good audio but the inverse curiously doesn't hold true.
Top tips:
Place your mic as close to your mouth as possible

Avoid using the inbuilt microphone on a mobile device

Clip-on mics that plug into your phone, or USB microphones, are quick wins when it comes to audio quality
Recommendations:
The Blue Yeti and Blue Snowball USB microphones are two great, inexpensive options. As are the Rode SmartLav+ and the IK Multimedia iRig Lav Mic if you want to record with your smartphone.
2. Camera
The built-in webcam on your laptop should perform just fine (as will most recent smartphone cameras), assuming you're taking care of your audio.
Top tips:
Make sure your shot is stable by using a tripod if necessary. Shaky cameras distract from your message.

Raise the camera so it is at your eye-level. Meeting the viewer's eye is key to creating a properly effective video.
Recommendations:
If you need to buy an external webcam have a look at the high spec Logitech C920.
3. Lighting
In most cases, you won't need dedicated lighting but that doesn't mean you don't need to think about the light you are using. Luckily, natural light can be the best there is if you get it right.
Top tips:
Face a window whilst recording to make sure your face is nicely lit

Avoid bright light sources from behind to make sure you don't end up as a silhouette
Recommendations:
If you're really in need of some artificial light sources then search for Neewer Ring Lights for some affordable solutions or Neewer Video Lights for some more powerful and versatile kits on a budget.

4. Software
For editing and screen recording there are plenty of software options available.
Free tools like Quicktime and iMovie will allow you to quickly trim your clips, however, if you're going to be recording your screen and webcam at the same time then Screenflow from Telestream is an excellent investment. Although not made for absolute beginners, Screenflow offers a lot of scope for those trying to up their video editing game with the ability to add animations and effects to your screen recorded footage.
Video can be complicated but it doesn't have to be. If you follow these recommendations then you can elevate your video quality above the crowd and start to stand out.
What does your video setup look like? Is there something that just isn't working for you? Let us know in the comments below.
The post Making the most of video when working remotely appeared first on SocialTalent.