Americans have unsurprisingly embraced remote work in the wake of the COVID-19 pandemic. Millions of U.S. workers have enjoyed the pandemic-era health precaution of remote or hybrid work that has to a large degree morphed into an employee expectation.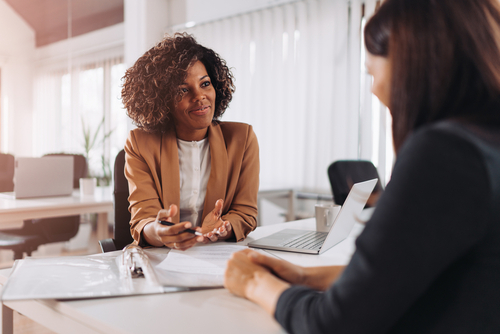 It's perhaps surprising then that recent survey data by The Harris Poll on behalf of the American Staffing Association (ASA), finds that when it comes to interviewing for a job, U.S. job seekers actually prefer being in-person.
In-person Interviews Preferred
The survey was conducted online within the U.S. by The Harris Poll on behalf of ASA from October 27–31, 2022, among a total of 2019 U.S. adults aged 18 and older; 1140 of these respondents were employed. The results showed that 70 percent of respondents preferred in-person interviews to all other methods. Seventeen percent preferred video calls, nine percent audio-only calls and four percent something else.
Demographic Differences
Demographic differences seemed to correlate with respondent preferences. As readers may have suspected, Generation Z and Millennial respondents were more likely than Generation X and Baby Boomer respondents to prefer video calls. But the differences weren't as large as might have been guessed.
While just 12 percent of Baby Boomers said they preferred video calls, that proportion grew to 18 percent among Generation X respondents, 23 percent among Millennials and down a bit to 21 percent among Gen Z. Seventy-nine percent of Boomers preferred in-person interviews, compared to 63 percent for both Gen Z and Millennials.
Race and ethnicity also correlated with interview preferences, with white respondents preferring in-person interviews at a rate of 74 percent, compared to 65 percent for Black respondents, and 67 percent for Hispanic respondents.
Takeaways for Recruiters
This data suggests some important takeaways for recruiters and HR professionals in a climate of high labor demand.
Just because workers tend to prefer the ability to work remotely doesn't mean they see zero value in in-person interaction. That can be particularly true in the interview process, when candidates get a chance to get to know their potential employers and managers for the first time.
This study suggests that businesses should do what they can to accommodate the desire for in-person interviews, even if positions will be fully remote. First impressions make a difference.
Lin Grensing-Pophal is a Contributing Editor at HR Daily Advisor.
The post Survey Respondents Report Preference for In-Person Interviews appeared first on HR Daily Advisor.