Employee stress, labor market unrest and ongoing talent shortages have caused many business leaders to consider change to be the only constant in their organizations, and strategies of the past won't save the day, says industry analyst Josh Bersin.
CHROs are driving the most important issues in the company, according to Bersin. "Nobody's complaining about having a seat at the table anymore." Instead, HR leaders are juggling many seats. As a lifeline, he points to a resource that many HR executives are still evaluating: artificial intelligence.
AI is in every headline these days, but Bersin told an audience of CHROs at HRE's inaugural Strategy Summit that this isn't just a buzzword. He called the escalating incorporation of artificial intelligence the "most disruptive" change he's seen in the HR technology landscape during his decades-long career. But the twist is that, while the rise of AI is sometimes characterized as scary or negative, Bersin's outlook is that AI will help disrupt the one thing plaguing all leaders in 2024: change. 
AI does more with less
Bersin pointed out what many CHROs already know: Employees are doing more with less. He told the audience that organizational growth can longer be achieved by hiring more people because the talent simply isn't available at sustainable levels. But this shouldn't signal scarcity; a macro view illustrates that the opposite can be true.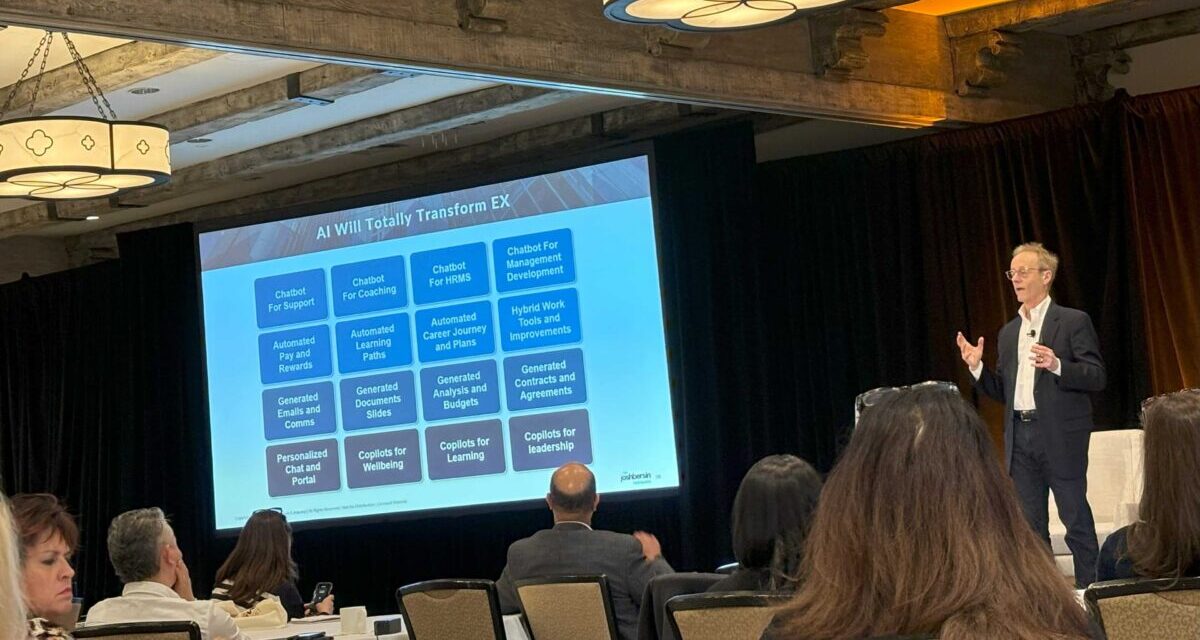 Bersin pointed out that per capita GDP has increased 200% in the past 15 years, thanks to the introduction of products like the Apple iPhone, Open.AI's ChatGPT and Nvidia processing units. For HR, AI has demonstrated value in decreasing hire time, matching internal talent with business needs, improving employee experience, alleviating scheduling pain points, returning answers quickly and aiding with decision-making.
Importantly for HR, according to Bersin, AI can remove siloes that make it harder to attract and retain the best talent by linking every aspect of the employee lifecycle. He says that today's best tools have "jumped two generations" to use global data to make predictions and deliver insights in ways that have never before been delivered. Plus, they can save time. 
Labor market pressures
Nonetheless, Bersin acknowledges that this season of economic growth puts CEOs under enormous pressure to transform their organizations in a prohibitive labor market with layers of complexity, including governmental factors. 
"This is another one that really surprised me this year," said Bersin. "We have a president of the United States … who has placed labor advocates all over the federal government to facilitate the growth of labor unions." He warns that this activity is going to continue for several years, more so in specific industries. "They're going after Tesla; they're going after Toyota." 
This climate has caused employees to speak up for themselves, said Bersin. Candidates and employees want more money, more flexibility and more development (and Bersin hinted that they also want a four-day workweek). "Employees are really overwhelmed and stressed, and the frontline employees are [feeling] worse." He says that research indicates that frontline workers are twice as unhappy as white-collar workers who have more flexibility in their jobs. 
And these are going to be the most difficult people to attract and retain. Take, for example, one of the most essential roles in the United States: medical professionals. Reporting from Oracle predicts that more than 6.5 million healthcare workers will permanently leave the field by 2026, and only 1.9 million will be available to fill the empty roles.
Tools to promote growth
Bersin says that CHROs are pressed to grow and transform the company while keeping employees happy in a labor market that's only going to get tougher. In an attempt to soothe hiring and retention pressures—such as talent acquisition, skills-based mobility and employee experience—HR tech vendors are coming on strong with solutions. He says AI is going to be the way "out of this trap of not having enough workers."
AI offers HR leaders an outlet to run their departments with fewer people in a "more connected" and efficient way. Artificial intelligence has arrived at the HR practitioner's desk in the tech tools they use every day, from simple job description generators to complex data analytics modeling. And there is much more to come, most of which is going to be welcomed by the human resource industry. AI offers a "really important set of tools to differentiate and grow," according to the analyst. 
Bersin says that in 2024 AI will "dominate" the HR tech stack. From traditional HCM providers to newly positioned data companies, all are proposing AI-powered products and features to HR leaders. To evaluate the chaos, he insists that CHROs ask themselves, What problem are we trying to solve? While new AI-based tools might seem exciting, Bersin tells his clients not to succumb to external pressure if a tool isn't fit for their organization or doesn't address a demonstrable need. 
What CHROs can do now
Bersin painted a convincing picture of why HR leaders need to let AI tools help their teams succeed. To move forward, he offered this simple set of action items:
Move fast: Experiment with new tools and platforms

Talk with IT: What platforms or standards have they created?

Conduct hackathons: Let teams come up with ideas

Teach your teams about AI so they aren't intimidated or scared

Prioritize

 data, integration and ability to build trust

Focus on top-priority use cases, not just bells and whistles
---
The HRE Strategy Summit is where strategic relationships are built, innovative solutions are discovered and critical discussions impacting the future of HR take place. Learn more about future summits.
The post Bersin to CHROs: You are driving the most important issues in your company appeared first on HR Executive.