We all know it's expensive to replace an employee. A recent SHRM report stated that hiring, onboarding and training a new employee comes to about 50%-60% of the departing employee's salary. But, when it comes to overall losses—such as lost relationships, institutional knowledge and specialized expertise—the costs actually could range from 90%-200% of the employee's salary.
It's long been HR's job to help retain valuable talent across the workforce and minimize replacement costs. But now, some HR organizations are dealing with their own retention issues in a critical area: HRIT. Our most recent report, The Business of HR in 2023, showed a 33% drop in HR professionals with five to 10 years of HRIT experience.
The timing of this exodus is unfortunate for many reasons. First, the HR tech ecosystem is becoming only more complex. It's no longer enough to know the ins and outs of your company's HRMS (although that alone is highly valuable expertise given that the average age of an HRMS is now about seven years). Even in predominantly cloud-based environments, these centralized HR systems have numerous workflows and complex configurations, as well as many integrations.
Secondly, as the HR tech ecosystem has expanded with innovative systems offering new functionalities, HRIT professionals must have expertise in areas such as data privacy, content governance, reporting and analytics, security and AI—plus familiarity with the ever-evolving tech market. Our survey showed that, on average, companies are managing nine to 11 major HR applications and upwards of 30 HR system integrations.
Finally, technology now touches the work lives of all employees, and that means HR must be involved in the associated employee experiences, governance and job impact. Even when workforce productivity applications such as Teams and Viva, Salesforce and Slack are owned by IT or other functions, HRIT professionals must have a hand in the rollout, training and ongoing data management. The same is true for payroll, customer service and scheduling applications.
I'd like to offer up some advice on what to do to minimize the effect of HRIT talent losses and help new employees get up to speed as quickly as possible.
One of the things I've learned from personal experience is the importance of maintaining relationships with departing employees who have valuable institutional knowledge. Most professionals who leave on good terms are open to maintaining communications. Ideally, a former employee might be open to answering a question or two to help a former teammate out; in some cases, a former employee might consider working with your team as an advisor, consultant or contractor. The HR world is small, so you definitely want to keep those bridges strong.
If you've not done so already, I strongly recommend making the time to create what we call an HR systems blueprint. This document records all of the systems, tools and modules in place, along with critical details such as purchase dates, license expirations, maintenance and other recurring costs, vendor information, and data imports and exports. This is a huge project, but it only gets harder and more complex the longer you wait to do it. (If you've taken our survey in the past, you can use your responses to get a head start.)
This might also be a good time to reevaluate your relationship with enterprise IT to clarify "who owns what." Joint ownership of systems is always tricky, but it is not impossible to manage as long as responsibilities are clearly delineated and lines of communication are always open. I have been advising leaders to move away from traditional project manager roles—typically centered around implementation and rollouts of systems—to product managers who have responsibility for a system throughout its entire lifecycle. This advice also applies to other functional areas, such as finance, that are heavily involved in HR tech decision-making.
See also: How job postings and interviews can help you end rampant turnover
You also may want to examine how you're balancing your use of full-time staff with external resources such as contractors and managed service providers. Do current staffers have manageable workloads? Are you managing for staffing risks, and do you have contingencies in place for unexpected staffing disruptions?
Training for new employees and ongoing development for existing HRIT staff should also be high on your priority list. At last fall's HR Tech Conference, a person new to HRIT came up to me rather desperate for help. He admitted to being overwhelmed and had no idea where to start when it came to the learning required for his new job. This isn't an industry with a clearly defined education process; in fact, it is often overlooked at many business schools and in HR-related courses. You must be ready to make significant investments into new HRIT professionals who need one foot in HR, another in IT and yet another (!) in business. Training someone for this complicated role takes much more than membership in a professional association or a couple of certifications. The time is now to build a comprehensive development track that can be customized depending on employees' backgrounds and the skills they bring with them. Your budget must also include ongoing training and networking opportunities to keep skills sharp and knowledge up to date as the market evolves. Don't forget to have resources lined up and available for help when needed, especially during implementations and system updates.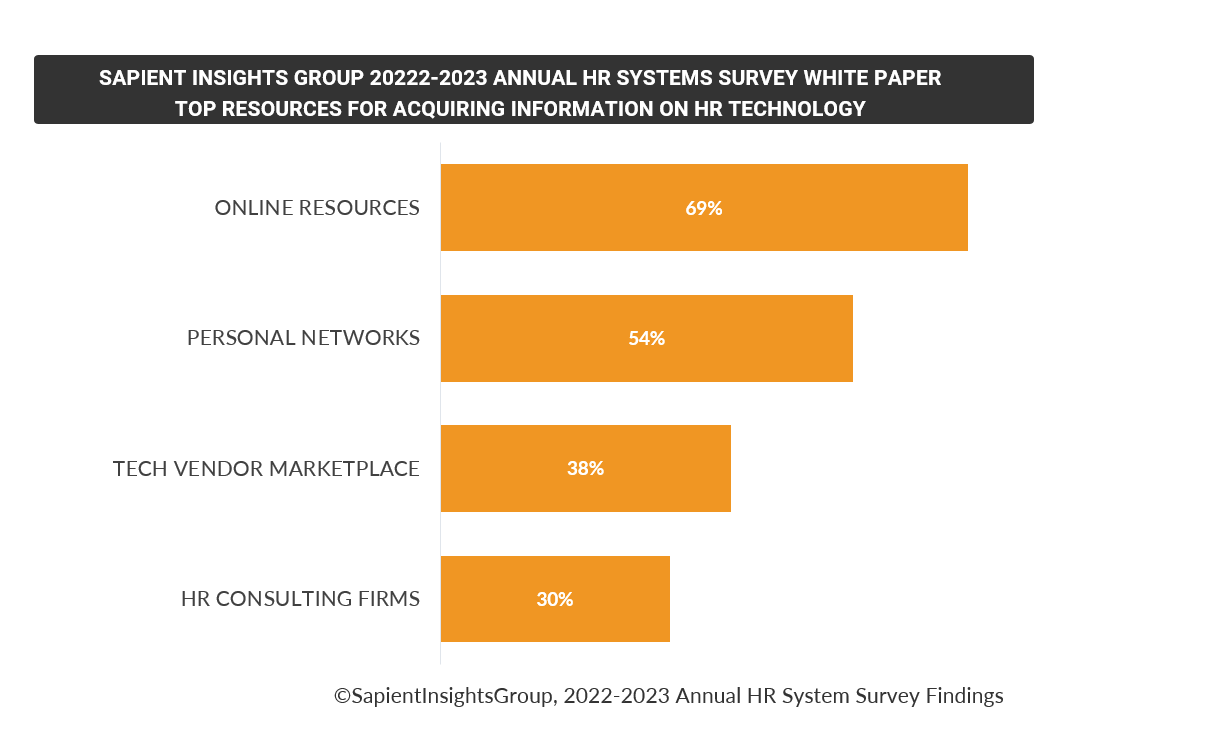 Figure 1, above, based on responses from The Business of HR 2023 report, shows that online resources, personal networks and vendors are the top information resources for HRIT professionals. We found that 55% of respondents to our survey do have some type of certification, up 12% from the previous year. Figure 2, below, also based on survey responses, shows the top five certifications for HR tech professionals and buyers.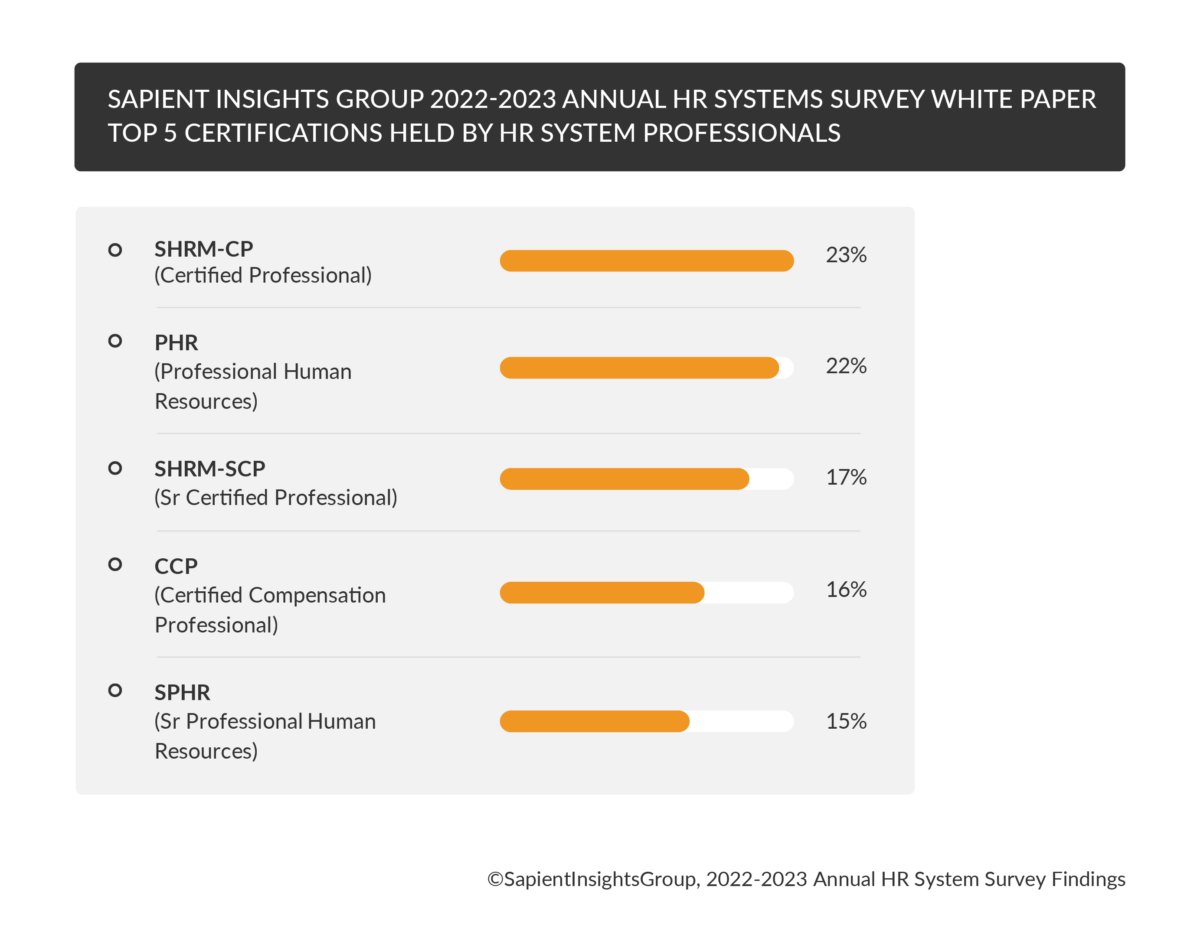 And, for just a minute, let me get on my soapbox. Lean on your vendor partners for better training resources! While much attention has been paid of late to general employee experiences (and rightfully so), the system administrator experience for many systems is sorely lacking. System training is primarily focused on implementations and select integrations or customizations. Vendors need to put more focus on helping corporate buyers manage their products more efficiently and develop resources specifically for new HRIT employees who are unfamiliar with their products.
Related: It's time for HR to develop our own
Finally, when hiring new professionals, do ensure that you're hiring for the future.  In addition to possessing the requisite technical knowledge and skills, HRIT professionals should also have the following capabilities:
Critical thinking and the ability to see the "big picture"
A continuous improvement mindset
Negotiating, troubleshooting and problem-solving skills
The ability to collaborate and work effectively across functions
Excellent verbal and written communication skills
In one way or another, technology supports almost everything we do in HR today. Therefore, I view HRIT as one of the most important roles in our profession. HR leaders must ensure staffers have the training, resources and leadership support needed to do their jobs well, opportunities to continually broaden their knowledge, reasonable workloads and fair market compensation. Take steps now to keep and continually grow these valuable employees.
The post HRIT pros are leaving in droves; how to minimize the impact appeared first on HR Executive.