The COVID-19 pandemic has had two key impacts on the American workplace: First, there is a very real risk of employees getting sick and spreading an infectious, debilitating, and potentially deadly disease to their coworkers. Second, huge numbers of Americans are now working remotely.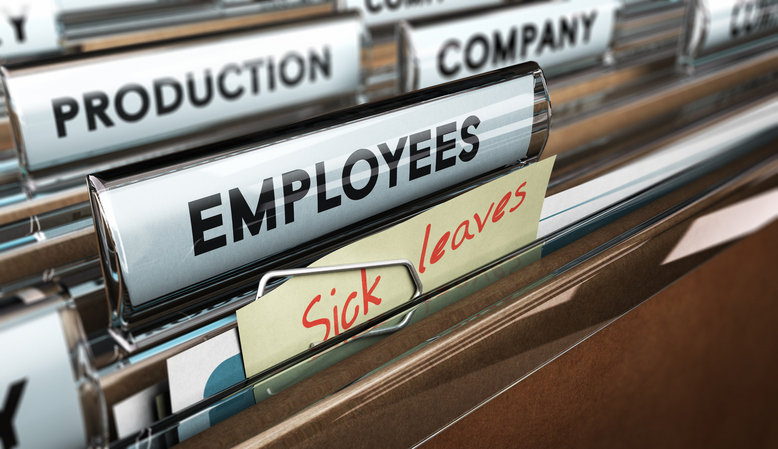 According to a recent MIT survey conducted between April 1 and April 5, 2020, of those workers who were employed 4 weeks before the survey, just over one-third (34%) reported they had been commuting to work but were now working from home.
These two impacts create interesting dynamics when it comes to employee sick leave requests. In this feature, we discuss some considerations for training managers to address such requests in the era of COVID-19.
Novel Considerations
First, it's helpful to take note of the impacts of the new dynamic when it comes to employee sick leave requests. For example, although many employers may fear workers will fake an illness to call in sick and get a day off, the opposite has historically been true for many companies: Employees who are sick don't take a day off and come into the office anyway.
This has led not only to employees' coming into work and not being as productive as they would normally be but also to the obvious risk of infecting other staff. With so many employees working remotely, the risk of infecting coworkers is reduced or eliminated for many; however, employers may prefer their staff take a sick day if they are under the weather rather than having to pay them for a less than fully productive day.
This is compounded by many employers' anxiety about facing a flood of time-off requests late in the year, as options for vacations have been severely limited.
On the other hand, many workers don't have the option to work from home, either because their company is essential or because the work they do can't effectively be performed remotely. These workers can understandably face intense anxiety over the prospect of coming into a workplace where there is a risk of infection from coworkers or customers.
Importance of Empathy
It's understandable that employers in some industries are feeling the crunch of high demand and potentially reduced staff availability. However, employers and managers should do what they can to ensure they are addressing the concerns of their employees, both because it's the right thing to do and because it's important to long-term employee morale and employer-employee relationships.
"I think the most important thing managers need to be trained in right now is empathy," says Jennifer Walden, Director of Operations for WikiLawn Lawn Care. "People are scared and they're not receiving the guidance they'd likely hoped for. They're being told to go back to work and fend for themselves, and managers need to understand that there's nothing remotely hysterical about an employee who is afraid to come to work because of the risk of infection."
Walden stresses the importance of having an honest dialogue with staff. "Managers can be trained to try and alleviate those fears by discussing the measures being taken," she says. "They can also offer resources for the employee, and means by which they can feel more safe at work. If the employee still doesn't feel like it's worth the risk and wishes to use sick time, however, managers need to accept this without judgment."
Extending Remote Work Options Where Possible
Not all employees who request time off are doing so because they are currently sick. They may be worried about being among large numbers of other people and catching a disease like COVID-19. To the extent possible, employers should consider allowing staff to work from home for a period of time after the office has generally returned to on-site work.
Understanding and Following Applicable Laws and Regulations
Anytime employees are concerned about their health, employers should be cognizant of applicable local, state, and federal laws and regulations. In addition to long-standing laws like the Americans with Disabilities Act (ADA), the federal government and many states have enacted new laws to specifically handle employment issues related to the COVID-19 pandemic. Managers don't necessarily need to be legal experts in this respect, but they should know enough to identify potential issues.
"It's key that managers/supervisors know what they're dealing with. By that I mean there is a big difference between an employee expressing fear over COVID-19 just because it's a scary topic versus an employee expressing concern over COVID-19 because they have some other medical condition," says Michael Elkins, Esq., founder and partner at Fort Lauderdale-based MLE Law. "Employers should provide guidance to managers/supervisors on how to identify employees raising solely COVID-19 issues and employees raising COVID-19 and ADA issues."
And New Legal Implication
Elkins adds that employers and managers need to understand that the Families First Coronavirus Response Act, which contains the new employee paid sick leave laws, is in effect until the end of 2020. "Thus, even though shelter at home orders are lifted, employee sick leave requests from now until the end of the year need to be analyzed to determine if they implicate paid leave," he writes. "Just because COVID-19 is dissipating doesn't mean the enacted laws are any less applicable."
Additionally, states and localities may have their own laws and regulations impacting sick leave requests for employees.
Employees' "calling in sick" has long been a bit of a joke among workers and employers alike. But in the midst of a global pandemic, sick leave requests take on an entirely different level of significance and relevance.
Employers need to be cognizant of the very real fear and anxiety employees are facing, whether currently working remotely or on the front lines in essential industries, in addition to new and sometimes complex laws and regulations and additional considerations for managers to be aware of.
The post When Dealing With Sick Leave, It's a Whole New World appeared first on HR Daily Advisor.