A confluence of factors has pushed employee stress and job dissatisfaction to new highs, in what some analysts call a "crisis of wellbeing" in the workplace.
Nearly half of employees (48%) say their wellbeing declined in 2022, and 28% say they are miserable at work, according to a survey of 9,000 employees globally from Gympass, an employee wellbeing platform. Not only that but in the U.S., nearly half (48%) of Americans aren't satisfied with their wellbeing at work and over 25% are "completely unhappy" in their jobs. The report also points to recent Gallup data that finds that employee stress is at an all-time high, and 60% of employees are emotionally detached at work.
The information is the latest to paint a dire picture of employees' wellbeing. Largely speaking, stress, anxiety, depression, burnout and other conditions have soared over the last couple of years as uncertain event after uncertain event—from the ongoing pandemic to political turmoil—has resulted in a nosedive in how employees are feeling. On top of that, soaring inflation and fears of a recession have also taken their toll on employees with financial stress skyrocketing.
---
---
The research is a call to action for employers and HR leaders, in particular, tasked with making strides in employee wellbeing. Organizations, says Cesar Carvalho, Gympass founder and CEO, have a "responsibility to confront this crisis head-on, to support our employees through better habits—be it fitness, healthy eating, meditation, mental health or hundreds of other activities."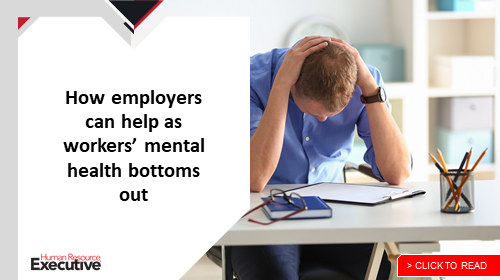 "There's an altruistic element to supporting our employees in this way, but it also has a positive impact on our bottom lines when our employees are happier, healthier and more engaged," he says. Employee stress, experts contend, impacts job performance, affecting productivity, absenteeism and more, making it imperative for employers to act.
Although handfuls of employers have made strides in mental health and other wellbeing efforts, prioritizing efforts and enhancing benefits in the last couple of years as the pandemic took a dramatic toll on employees' emotional health, the startling data indicates there is more work to be done. Some ideas from the report? Employee wellness best practices include helping employees prioritize their mental and physical health, like local gym memberships or meditation classes, as well as incentivizing employees to take breaks, recharge and find time during the day to move.
Other recent research predicts that increased commitments will be coming to employee wellbeing in the next few years. For instance, two out of three U.S. employers say they plan to make employee mental health, and the emotional wellbeing programs and solutions that support it, one of their top three health priorities over the next three years, according to a survey of 455 U.S. employers from Willis Towers Watson.
---
---
"COVID-19 took a terrible toll on employees' lives, including substantially worsening mental health," Erin Terkoski Young, senior director for WTW's Health, Equity & Wellbeing practice, recently said. "And even as the pandemic takes a different shift, mental health challenges continue to persist."
Although HR and company leaders increasingly say investments in employee wellbeing are the right thing to do, the decision to do so is often about more than that. There are hard numbers to justify employers' efforts: The vast majority of employees (77%) say they would consider leaving a company that doesn't focus on wellbeing, the Gympass survey finds.
Meanwhile, 83% of employees believe their wellbeing is just as important as their salary, and 85% of employees are more likely to stay in their role if their employer focuses more on wellbeing.
Fred Thiele, vice president, global benefits & mobility, for Microsoft, will present a template for success amid the wellbeing crisis during a keynote presentation at HRE's upcoming Health & Benefits Leadership Conference, taking place in Las Vegas from May 3-5. Learn more and register here.
The post Startling new wellbeing data is a call to action for HR leaders appeared first on HR Executive.